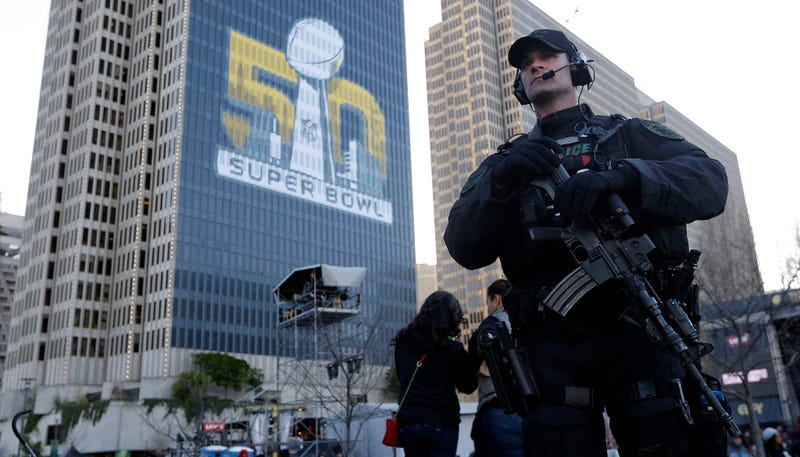 Reporters were guided by police escort from San Francisco down to the media center in San Jose yesterday and, according to the San Jose Mercury-News the escorts will continue during the week. While the reporters tweeted about how awesome their escorts were (yes, really, they did), it got me wondering who's paying for all this. All of San Francisco, as it turns out.
At the bottom of this post you can read a report from the San Francisco Board of Supervisors. By the board's estimate, the Super Bowl will cost San Francisco, the city that isn't even hosting the game, more than $4.8 million, and most of the money to cover these costs hasn't been allocated yet. A significant chunk of this bill, about $3.8 million, is because of two agencies: transit (estimated costs up to $2.3 million) and police (estimated costs up to $1.5 million).
When the deal was first reached, there was no mention of the cost to the city, and only about $300,000 was budgeted for expenses. From the report, emphasis added is mine.
The General Fund expenditures for services provided to Super Bowl 50 public events are estimated to cost the City $4,881,625. Although the NFL announced in May 2013 that the Bay Area would host Super Bowl 50, only the Fire Department and Department of Emergency Management included expenditures for Super Bowl 50 events in their FY 2015-16 budgets, totaling $307,843. Therefore, net of $307,843 in budgeted funds and $198,017 in Department revenues and Host Committee reimbursements, $4,375,765 still needs to be funded of the estimated $4,881,625 in General Fund expenditures for Super Bowl 50 events.
So where will this $4.3 million come from? They're gonna go looking for it with a combination of "general fund allocations and/or redirect staff time and other resources from planned projects." Asking the NFL for money isn't an option because multiple San Francisco agencies promised the NFL as much as part of getting the Super Bowl. From the board's report:

As part of the Bid, the Fire, Police, and Emergency Management Departments signed letters of assurance to not seek reimbursement from the NFL for providing additional public safety services in support of public events related to the Super Bowl.
Only two city departments, fire and parks and recreation, have deals in place to get money from the host committee and the amount isn't much, estimated at $104,257.

This was one of the concessions San Francisco had to make to even have a hope of hosting the game, according to the vice president of the city's Chamber of Commerce, Jim Lazarus.* When competing with Houston and Miami to land Super Bowl 50, San Francisco had to swear off reimbursement, or "we might not have gotten the bid."