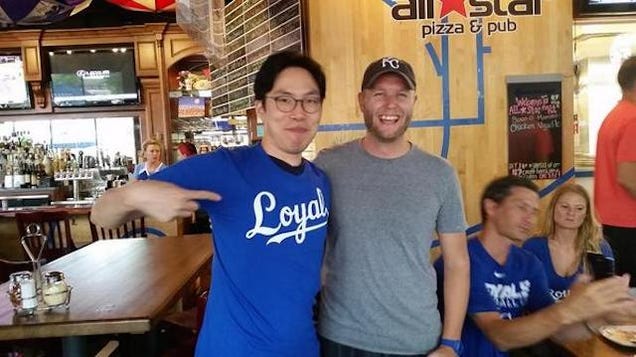 Sung Woo Lee was born and raised in South Korea, and yet the poor guy somehow got roped into cheering for the Kansas City Royals. He's followed the team for something like two decades now but he has never visited the United States. This week, thanks to a group of nice fans, Sung Woo is getting an ambassador's welcome in Kansas City, and on Tuesday, "the best Royals fan to have never seen a game in person," in the Pine Tar Press's phrase, finally made it to the K.
This is a sweet story that begins in the '90s, when Sung Woo began watching the Royals because American sports were easy to follow on TV:
RM: How did you get started following and rooting for the Royals?

SW: In 90′s, when I was middle school student, I started to watch AFKN (American Forces Korean Network) for my English. But most of Drama, News and even Sesami street were too difficult for me to start learning English. Only sports broadcast was understandable… that's the very beginning I followed American Pro sports. I became a huge sports fan of MLB, NBA and NFL.

Fell in love with much more upgrade skill / scale / gorgeous stadiums of American pro sports. Then… What made me of being a Royals fan? Now I can't tell why… just like many of you, Royals fans, I was sort of… underdog lover? sympathy? With more research & understanding of glorious Royals 70-80′s, I much more liked Royals It was much more thrilled Royals beat big market teams rather than big market teams win against weak teams
He knows the Royals have their extended periods of suck, but he loves them all the same, calling his fandom "my exit from work, my joy for my life?! (Too exaggerated??)" Nah. Not too exaggerated.
With all of this in mind, some Royals fans planned a nice trip for Sung Woo this week, with a full itinerary. He'll see the sights, eat some barbecue, and of course, watch the Royals. The team plans to have him throw out the first pitch at next Monday's game. You can follow the whole experience with a convenient hashtag.
The journey began Tuesday. South Korea's biggest Royals fan tweeted as he made his way to KC:
Now I will be on board with @Royals blue, which @DaveDarby46 once sent me!! You guys can find me easily @KCIAirport! pic.twitter.com/CQ2vItgenH

— SungWoo Lee (@Koreanfan_KC) August 5, 2014
See you Kansas City in hours.... Now I am on board... in a mess with native English (⊙_⊙)ㆀ #SungWooToKC pic.twitter.com/FvAzGQQaBi

— SungWoo Lee (@Koreanfan_KC) August 5, 2014
A welcoming party met him in the afternoon. He was basically in shock at how many people cared about his vacation:
"I'm not sure I deserve this..." #SungWooToKC #BeRoyalKC pic.twitter.com/6YwUrt13cQ

— THE Fake Ned (@TheFakeNed) August 5, 2014
Welcome to KC, Sung Woo! #SungWootoKC #Royals pic.twitter.com/S0P6TKBiao

— Katie O'Keefe (@KatieLOK) August 5, 2014
"I cannot stop smiling..." #SungWooToKC pic.twitter.com/0gEQTDaUKN

— THE Fake Ned (@TheFakeNed) August 5, 2014
The group got a meal and gave gifts, like an apple pie, to Sung Woo:
This is crazy. @melonzip gave @Koreanfan_KC his first Apple Pie. #SungWooToKC pic.twitter.com/zopY3PXZko

— THE Fake Ned (@TheFakeNed) August 6, 2014
After the folksy Midwestern ceremonies, everyone watched the Royals game on TV:
22 Hours of flight - $2,000 4 Pizzas - $100 1 Apple Pie - $??? Watching #Royals in KC... #Priceless #SungWooToKC pic.twitter.com/AMxBHSQ0Yf

— THE Fake Ned (@TheFakeNed) August 6, 2014
Kansas City clobbered the Diamondbacks, 12-2, and everyone was happy:
#HeyHeyHeyHey Royals win with ease under my 1st ever watch in KC with great @DaveDarby46 & @HurtmanJeff #SungWooToKC pic.twitter.com/aZuCEULfeE

— SungWoo Lee (@Koreanfan_KC) August 6, 2014
Local news covered Sung Woo's arrival, so this morning, he got to watch himself on TV:
I AM ON TV!!! pic.twitter.com/MBp7vl3yxM

— SungWoo Lee (@Koreanfan_KC) August 6, 2014
People can be cool sometimes.
Top photo via @TheFakeNed