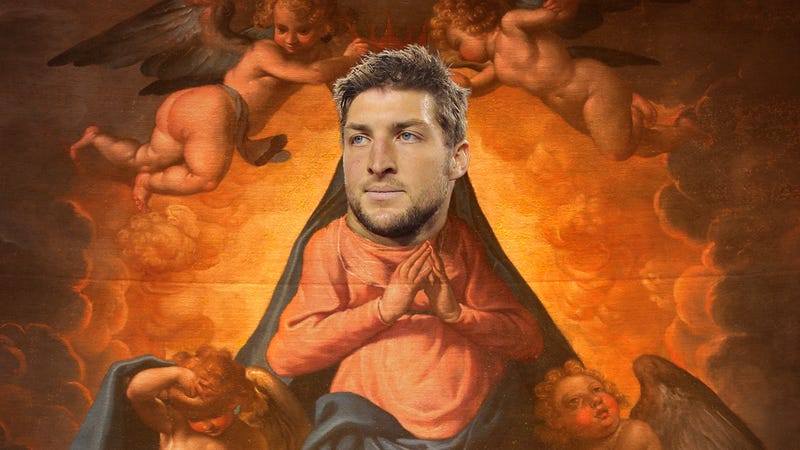 A 15,000-word piece about Tim Tebow is such a self-evidently bad idea that you would assume, not having read it, that this Sports Illustrated #longform offers something special to justify its claims on the time and attention of readers: fresh reporting, uniquely elegant writing, original ideas.
It doesn't, but give it credit for being not just bad but significantly bad, bad in a way that recapitulates everything that was terrible about Tebow's brief run of celebrity to begin with. The most interesting thing about "The Book of Tebow"—seriously, it's called "The Book of Tebow," illustrated with crosses, and broken up into seven sections that correspond to the seven capital virtues, one of which is misspelled—is just how inert it is, how little awareness it shows that the world has long since moved on. The new information on offer, mostly about how college coach Urban Meyer used Tebow as a policeman, could carry a piece perhaps a tenth this long; at its most lyrical, the prose reaches the level of a motivational poster ("Success can be earned, but every sunrise is a gift"), and if there are any ideas at all here, it would take a photomultiplier tube and a quantity of heavy water to find them. It is being sold on the premise that it exists.
Praise-baiting #longreads—rarely read, quite possibly not meant to be read, and laid out in formats that seem one twist of the dial away from a junior high school student's GeoCities page circa 1997—litter the internet like the bodies of dead satellites orbiting the Earth. This one is different, though, less because of its subject or its exceptional length—up there with the gospels, or "The Dead"—than because of its peculiar combination of ignorance and malice, and its general air of revanchist fervor. Seeking to explain Tim Tebow to the world, it just shows how little anyone really wants to engage with who Tebow is, or what he represents.