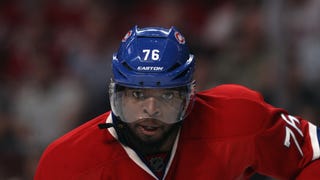 The Star Tribune's chat with Bill Daly about the "cap recapture" penalty includes this eye-opening line: "Chris Pronger, who now works for the NHL even though he's still getting paid by the Philadelphia Flyers, has since told the league he wanted a four-year deal and the club wanted seven 'to lower the cap charge.'"
Every morning, the fine folks at Sports Radio Interviews sift through the a.m. drive-time chatter to bring you the best interviews with coaches, players, and personalities across the sports landscape. Today: Pronger will almost certainly never play again.
Flyers defenseman Chris Pronger stopped by XM Radio's NHL Live studios in New York for a half-hour interview on Friday morning. For a brief interlude, the host threw things to their correspondent in Boston. But the mics remained hot, at least for a few minutes available in the NHL.com podcast edition (to which…
Chicago may have ended their ridiculous Stanley Cup drought on Philly's home ice, but apparently that's no reason to be magnanimous. Celebration or no celebration, there's always time to remind people that Chris Pronger is a bit of a jerk.
Edmonton Oilers defenseman Chris Pronger has said he wants to be traded out of Edmonton, and his agent has been quoted as saying, "There is a very pressing issue that would make it nearly impossible for the Prongers to remain in Edmonton." Many have speculated that Pronger's wife can't stand to live in Edmonton, but…