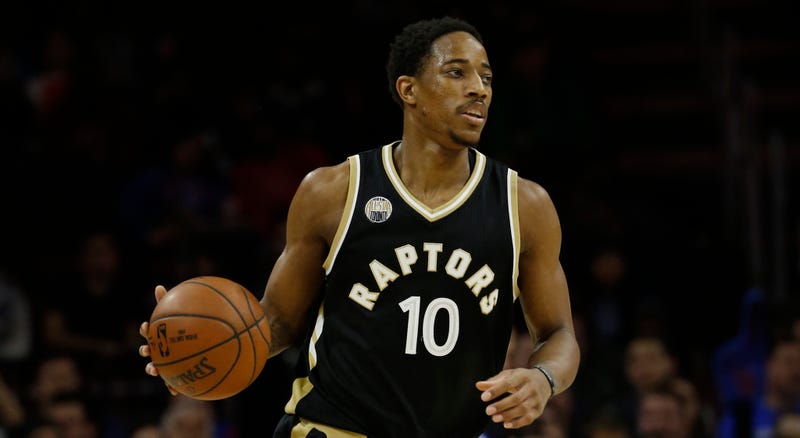 The Raptors went down Pennsylvania way to take on a summer league team that's somehow still playing into January. It was the fourth game of a mini road trip, but they took care of the anonymous group of Benjamin Franklin fans. Toronto is, for my money, the best of the morass of teams fighting for the second seed in…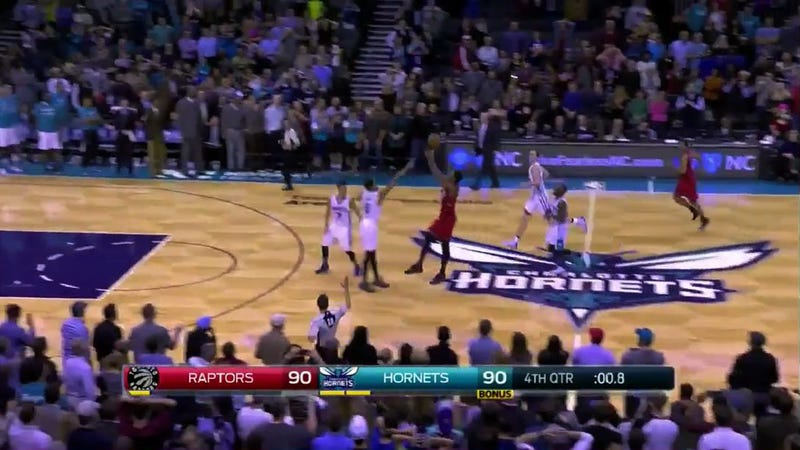 A Cory Joseph steal with just a couple of seconds remaining gave DeMar DeRozan the opportunity to nail a nearly half-court shot for a 93-90 win over the Hornets. But as you can hear from the whistle that blows shortly before DeRozan released, the Raptors called a timeout, negating his shot. Coming out of the timeout…
Earlier today the Toronto Raptors—who surprisingly have the third best record in the NBA—announced that DeMar DeRozan suffered a "torn left adductor longus tendon" with no timetable for return. Injury blog In Street Clothes explains what that is, and how long DeRozan will likely be out for. [In Street Clothes]
In the four weeks since Russell Westbrook's arthroscopic surgery, the Oklahoma City Thunder has fallen from 23-5 (.821) to 33-10 (.767) — that is, the team has racked up half its losses during just 15 games. Westbrook's major stats this season (21.4 points, 6.0 boards, 7.0 assists, 1.8 steals) all topped his career…
SportsGrid found this clip on the Toronto Raptors' website before it was taken down. It's DeMar DeRozan "interviewing" teammate Jonas Valanciunas. None of it is serious, except for maybe that answer at the 10-second mark.
I know they're tough to make out amongst the lush woods of Downtown Toronto, but that's Jose Calderon and DeMar DeRozan modeling the jerseys the Raptors will don for Wednesday's game against the Bulls. It's Canadian Forces Night, you see. Since 20 percent of any camo jersey sales will go to a military families fund,…
Raptors guard DeMar DeRozan says he is done competing in any "prop dunk contest" for NBA All-Star weekend. DeRozan finished third in Saturday's contest, and he lost out to Blake Griffin, who dunked over a car with a choir singing R. Kelly in the background, and JaVale McGee, who brought out an extra hoop so he could…
Credit the NBA for having the most active YouTube channel. But we were taken aback by these hi-res, super slow-motion videos of DeMar DeRozan, Blake Griffin and JaVale McGee in the dunk contest (Serge Ibaka gets hosed again). Set to haunting music, they're simply: art.
9. Toronto Raptors: DeMar Derozan, USC I assume Skeets is happy, because his team landed one of the draft's most enticing players. Derozan can fly and he'll probably put some asses in the seats.