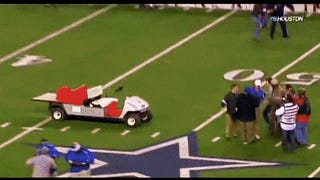 Please, world, let us be done with planking. It has gone too far. People are now falling off of the top of golf carts and then nearly getting run over by said golf carts. A person has actually died. Soon, our pets' heads will be falling off.
According to a commenter on Shane Bacon's blog, this is from the Ladies European Tour. Can we still make woman driver jokes if it was a male course official? How about European driver jokes? [Dogs Chasing Cars]
With a 2-year-old child wedged on the pedal, the golf cart careened out of control across a high school football field, leaving bodies in its wake. Well, one body.
The Donald was cruising around Trump National — the best, most stupendously fabulous course in New Jersey, of course — when someone stole his No. 13 golf cart. Doesn't he have, like, apprentices to make sure that doesn't happen? [Star-Ledger]