With Marco Rubio's campaign for the presidency likely drawing its last breaths, the candidate's focus should be squarely on a single, attainable victory—one that is still well within reach. Not a surprise upset of Donald Trump in Rubio's home state of Florida, but instead a far more glorious triumph—on the…
Mitt Romney, a man not really known for making good choices, is set to endorse Sen. Marco Rubio for the Republican presidential candidacy.
In what we can only hope was a sign of what's to come, the ABC GOP debate kicked off with the most bizarre candidate walk-out any of us will likely ever see. Ben Carson appeared to refuse to go on stage, the moderators literally forgot about John Kasich, and both Carson and Trump had to eventually be begged before…
Politics, like rap music, is sports. In the throes of competition, tempers flare as the blood gets hot. There's always some beef. Sometimes, separate parties arrive at blows. Rarely, there's even gunplay. Within that context, allow us to direct you to the bestest beef of them all, between aides to Republican…
GOP presidential hopeful Marco Rubio might be a huge dork, but it's not his fault this kid in Iowa took a football to the head. Rubio lofted that ball perfectly. That kid should've adjusted. Instead, this happened:
It's time. Tomorrow night, at 9 p.m. Eastern Daylight Time, ten drunk clowns are going to fight with each other on national television for the chance to make wildly important decisions that affect each and every one of our livelihoods. It is going to be a god damn masterpiece.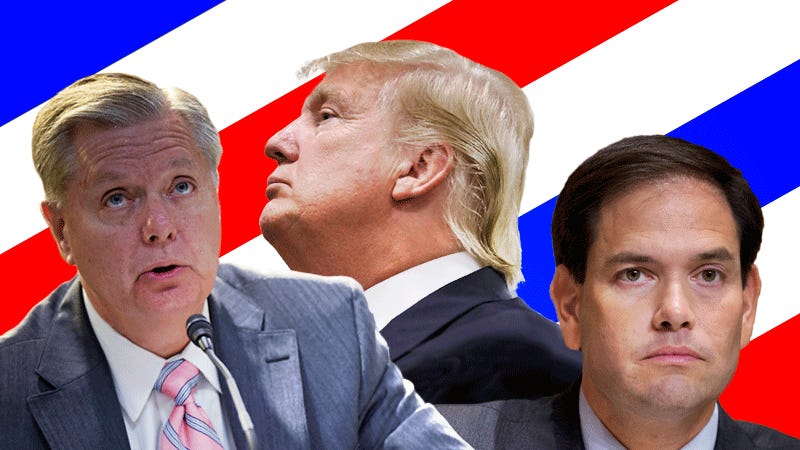 According to reports, presidential candidate and Woman Hillary Clinton tried very, very hard to make sure no one found out about her $600 haircut at New York's John Barrett Salon. But we did and now that's a thing we know about her.
Recently, the British Journal of Sports Medicine published a "Consensus Statement on Concussion in Sport," which sought to define concussions, lay out diagnostic procedures, differentiate between types of concussion victim (teenage athletes vs. adult athletes, for example), and determine how best to manage the risk…
It was the swig heard 'round the world. Florida senator Marco Rubio, tasked with delivering the official Republican response to President Obama's State of the Union address, found himself parched and distant from the necessary tool to quench that burning fire. In other words, he was thirsty. Usually in these…
Marco Rubio, according to an article published yesterday in the New York Times, is a diehard Dolphins fan and a massive football fan in general: His father used to motivate him to keep wearing his leg braces, there to correct a knee problem, by giving him pep talks in the voice of Don Shula ("I always wondered why…