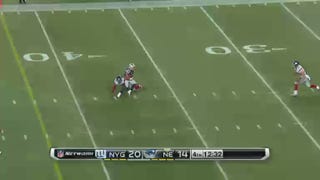 The hatred of Tim Tebow and the hatred of the attention lavished on Tim Tebow are wrongly, if understandably, mixed. In a Baylessless vacuum, in a place where the word "intangibles" isn't used by pundits for the purposes of invidious distinction, Tebow would probably be an OK dude, and a lot of fun to root for.
As of this posting, this video of Eagles-Jaguars highlights from Saturday night is still available on NFL.com. The anchor flubbed a line discussing Chip Kelly's decision to name Michael Vick as the starter and then clammed up. No big deal, he tried again and got it right. Except, for some reason, the clip was…
On the sidelines with a mic for last night's Washington/Indianapolis game, former Redskin Charles Mann complimented the heck out of safety LaRon Landry as O.J. Atogwe took it all in. Talking about how he looked fantastic. But wait, wait, not like that. He's happily married. To a woman. Totally straight. No homo!
Why do you watch preseason football? To prepare for hosting duties, I sat down last night to watch three of my least favorite things: 1. the Baltimore Ravens, 2. the Washington team, 3. an exhibition game.