Update: The Tennessee Republican later tweeted this: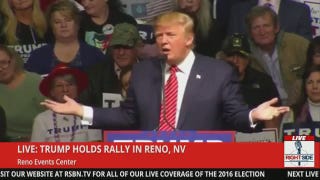 Donald Trump ranted at length today during a Reno campaign stop about how "soft" he believes the game of football has become, pointing to last night's Steelers-Bengals game as an illustration of how player-safety rules are ruining America.
CNN is the home of next week's Republican debate, and tonight's ever-encroaching instance of corporate synergy found Turner's Charles Barkley being forced, hostage-proof-of-life style, to talk politics. And talk he did, slamming Donald Trump and trashing CNN—saying the network has "done an awful job this election."
It was the swig heard 'round the world. Florida senator Marco Rubio, tasked with delivering the official Republican response to President Obama's State of the Union address, found himself parched and distant from the necessary tool to quench that burning fire. In other words, he was thirsty. Usually in these…
Add this to your bucket list: Watching a U.S. presidential election from somewhere other than the States. On Tuesday night I was about 40 miles from the border, in Vancouver, watching the election returns with Democrat ex-pats. (The party affiliation was an inevitability, as there are virtually no Republicans in…
One of the most asked questions we here at Deadspin get is "If Jackie Robinson were alive today, how would he vote?" Well, someone's offered an answer.