Update: The Tennessee Republican later tweeted this: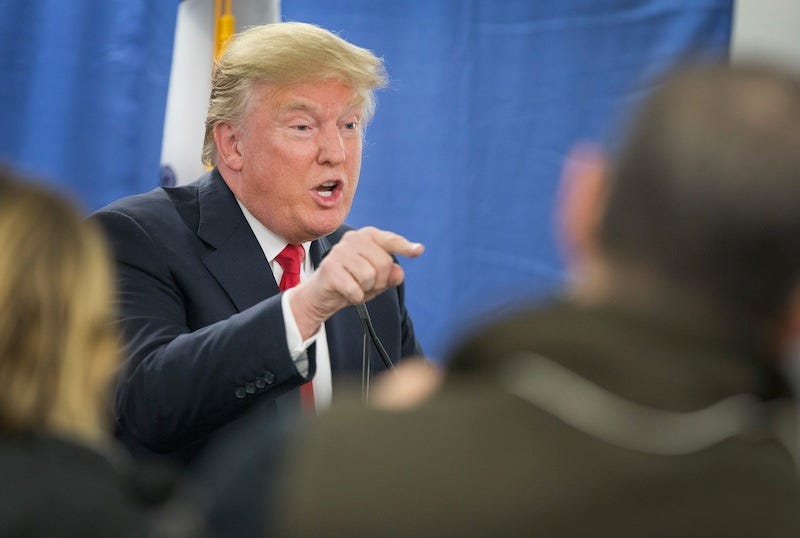 It is not, as a rule, charitable to poke fun at another person's physical shortcomings. However, when that person is both a public figure and a politician who actively and continually draws on the tenets of racism, misogyny and homophobia as a campaign platform, certain concessions can be made.
Donald Trump ranted at length today during a Reno campaign stop about how "soft" he believes the game of football has become, pointing to last night's Steelers-Bengals game as an illustration of how player-safety rules are ruining America.
CNN is the home of next week's Republican debate, and tonight's ever-encroaching instance of corporate synergy found Turner's Charles Barkley being forced, hostage-proof-of-life style, to talk politics. And talk he did, slamming Donald Trump and trashing CNN—saying the network has "done an awful job this election."
Somehow, once again, all the candidates' demands have been met, the undercard round finished, and Ted Cruz's flesh mask polished to a sheen. Come 9:00 p.m. EST, it's time for another GOP debate live blog. And as our host for the evening will be Fox Business, this one is almost guaranteed to be extra terrible. We can't…
It is pretty damn good to be a Republican right now. The GOP controls both the House and the Senate, it owns more than half of the gubernatorial seats in the nation, Obama is close to a zero percent approval rating, and 9/11 truther Pete Carroll kept Marshawn Lynch from being the Super Bowl MVP.
Lanky Aryan Ann Coulter was on TV yesterday smiling gleefully about the fact that her recent column on soccer being a dumb, un-American sport provoked a tidal wave of outraged responses in the media. Her glee is perfectly justified.
Charles Krauthammer is a conservative columnist with a permanent sourpuss etched into his self-impressed face. He is not a sports columnist, okay? Yet he has managed, quite impressively, to come up with the single most inane solution yet for the "Washington Redskins" name controversy.
It was the swig heard 'round the world. Florida senator Marco Rubio, tasked with delivering the official Republican response to President Obama's State of the Union address, found himself parched and distant from the necessary tool to quench that burning fire. In other words, he was thirsty. Usually in these…
Add this to your bucket list: Watching a U.S. presidential election from somewhere other than the States. On Tuesday night I was about 40 miles from the border, in Vancouver, watching the election returns with Democrat ex-pats. (The party affiliation was an inevitability, as there are virtually no Republicans in…
One of the most asked questions we here at Deadspin get is "If Jackie Robinson were alive today, how would he vote?" Well, someone's offered an answer.