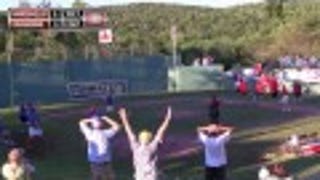 At the 12th annual Travis Roy Wiffle Ball Tournament at Little Fenway—a Wiffle ball-sized version of Fenway in Vermont—a man named Konnor Fleming entered wiffleball lore with his diving catch over the fence to end the game. Wicked facking hustle, guy.
It can be hard to watch sports all the time and not feel that instinctive, itching urge to get off the couch and toss a ball around for a little while (or at least during the commercial breaks). But we want to make sure that you take heed of the special hierarchy of balls that are available for tossing out there. Here…
The Kalamazoo Wiffle League is the No. 1 competitive wiffle league in the nation, one of its players tells me. This becomes apparent when you see Steve Everett's leaping catch below, and even more so when you see the lengths the wifflers went to verify the call. At stake were the tying runs in the last inning, after…
"AJ,I thought you might enjoy my short film "Wiffleball '79." I did. I really did. You will, too. [YouTube]
It's a big day in the world of sports birthdays: The wiffleball (and bat, we presume, unless they were just playing catch) turns 54 years old today. We would compare the wiffleball's age to our mother's, but she'd get all mad at us.