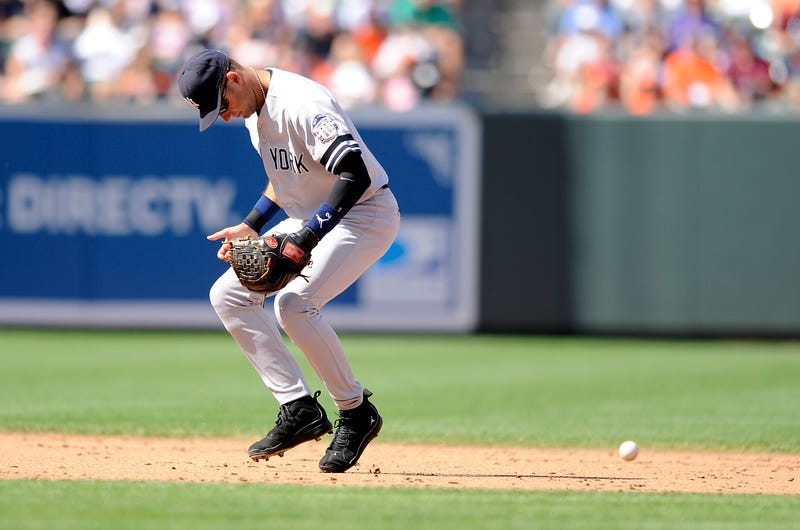 On Thursday, The Gatorade Company Inc.—a marketing shop with a secondary concern in the manufacture and distribution of sweetened salt water—released an advertisement featuring Derek Jeter, one of the worst players in baseball.
Judging advertisements by any sort of aesthetic criteria is probably a category error, but this was not a good advertisement. The conceit is that Jeter, who's near retirement after a long and distinguished career with the New York Yankees, decides on a whim to mingle with the proletariat, telling his driver to drop him off on a street near Yankee Stadium rather than driving directly to the private entrance ballplayers use. We see scenes of Jeter talking with and even touching ordinary people on the sidewalk and inside local businesses, and they brighten, the way people do when they're near someone famous whom they admire. Then Jeter heads into the stadium and, eventually, up to the field—ready, presumably, to take his final at-bat.
The idea here is obviously to show Jeter as a prince heading out among his people to show how much he loves them, and to permit them to show how much they love him in kind, and so to show, by the transitive property, how much they love The Gatorade Company Inc., which Jeter surely also loves, which has estimated annual revenues above $4 billion, and which also seemingly has the capacity to love. It loves Jeter in proportion to his estimated effect on annual revenues; it loves Jeter's fans in proportion to their willingness to purchase and consume Gatorade-branded products; and it loves that it loves, and can be loved. (Note the positioning of Jeter, onlooking baseball fans, and the viewer as subordinate to the Gatorade brand mark in the shot below.)
The actual advertisement doesn't quite work as intended, though. First, there's the choice of music—Frank Sinatra's "My Way," which not only draws an unfortunate parallel between late-era Jeter and the senescence of another limpid-eyed New York icon, but also reminds the viewer that Jeter was a vain and selfish player. (He refused, for example, to move off shortstop, which he played incompetently, when the Yankees traded for Alex Rodriguez.) Second, there's the fact that the conceit rests on the idea that Jeter has never once, over the 20 years he's played in New York, thought to take to the streets and talk to the commoners, raising certain questions about his supposed love affair with the city. Third, there's Jeter's visible discomfort, which may be the result of a bad actor's attempts to feign wistfulness—he's an actor in an advertisement here, after all, not the subject of a short documentary—but nonetheless lends the whole thing an air of unease. Add it all up and this is, at best, less kitsch than a set of allusions to a kitsch concept of New York as a big apple that never sleeps, filled with honest working people, Sinatra, "classiness," and so on. It's basically like watching Billy Crystal and Rudy Giuliani blow one another for a minute and a half.
---
There's nothing remarkable about this advertisement. It's an advertisement. (Even Jeter seems bored by it. "It didn't take long," he said. "I was out there for about 30 minutes.") What is remarkable, in its way, is how this advertisement was disseminated and received.
The Gatorade Company Inc. posted this advertisement to YouTube yesterday. Given that the advertisement, in its present form, is too long to run regularly on television, one can presume that it was edited and released with the online market in mind. One can further presume, given the mechanisms of the online sharing economy, that the marketing planners who designed its release did so in the expectation that journalists would do the hard work of making potential consumers of Gatorade-branded products aware of its existence. The journalists did not disappoint; calling them whores seems off only in that whores expect to be paid for their work.