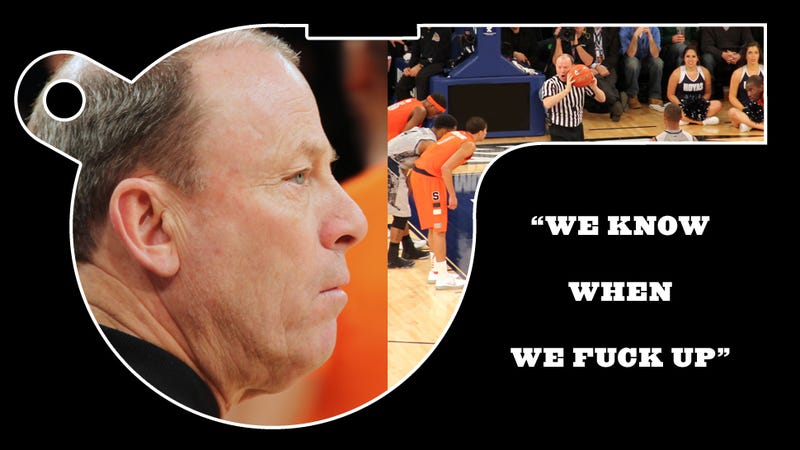 In the second round of the 2012 NCAA tournament, 16th-seeded UNC-Asheville trailed top-seeded Syracuse by three points with 38.2 seconds remaining, Orange inbounding the ball. This was a big moment for the Bulldogs, and it would prove to be a big moment, too, for a man whose name and face you wouldn't even recognize. In fact, what happened next in the game would stick with Eddie Corbett for weeks. There was a reason he'd always told his daughter to stay off SportsCenter and Facebook, wasn't there?
UNC-Asheville forced an errant pass that bounced off the hands of Syracuse guard Brandon Triche and back out of bounds in front of the Bulldogs' bench. The players began to celebrate, but the ref on the baseline had his left arm extended, pointing down the court. Syracuse ball. That was Corbett.
Boos from fans filled the CONSOL Energy Center in Pittsburgh. "How did they think that went off of Asheville's hand?" said TV commentator Reggie Miller. "This is unbelievable."
Syracuse went on to win, 72-65. In the aftermath of the game, that blown call became seen as the game's pivot, the injustice that derailed UNC-Asheville's upset bid. UNC-Asheville coach Ed Biedenbach hinted at it when he told reporters, "Syracuse is better than Asheville, but tonight Asheville was the better team." The director of men's basketball officiating for the NCAA—Corbett's boss—told a national TV audience, "He didn't get it right." The play was shown repeatedly on the sports networks and dissected by pundits. The next day a group named "Ed Corbett is the Worst Referee Ever" popped up on Facebook, filling up with photos of sad Bulldog players with captions such as "Are you kidding me!!!" and "So Sad =(."
"I was on SportsCenter and all of the talk shows for two straight days," said Corbett, 60, in an interview 10 months later at a diner near his home in Hastings, N.Y. He said it with a detached shrug, as if he were ordering another coffee.
Corbett is one of the best referees in college basketball. During his 35-year career, he has established himself as one of the go-to officials for big games. He has worked four title games and two semifinals. He works regular season and conference tournament games for the Big East and ACC. He was on the court for the 2013 Sweet Sixteen game between Ohio State and Arizona and a Big East semifinal. Corbett knows he made a mistake in the UNC-Asheville game. "We know when we fuck up," he said. "If I missed a call, I know."
Only 98 officials are invited to the tournament every year. After every round, half are eliminated based on performance. That number continues to be sliced until just nine officials are invited to work the Final Four. Corbett continued to work games until the regional weekend in 2012. Without his pedigree, he said, his season would have ended with that mistake. "I told [my boss], 'I'm a big boy. I can take the heat off everybody else. I can go home,'" he said.
In January 2013, Corbett was working yet another Syracuse game, this time with the Orange visiting top-ranked Louisville in one of the regular season's biggest matchups. Corbett made another late game call, this time an out-of-bounds decision in favor of visiting Syracuse. The fans again exploded in boos. "Twenty-thousand unofficial officials," as TV commentator Mike Patrick called them. A chant of "You suck! You suck!" filled the arena, but it soon died out. Replays had shown that Corbett's decision, like the overwhelming majority of his whistles over the years, was a good call.
The truth is, Corbett was in position to blow that call last year only because he gets so many other calls right. There is an art to that. Turns out, there's an art to getting calls wrong, too.
***
The NCAA's head of officiating, John Adams, looks for three things in a ref: Most fundamentally, an official must get the calls right. Secondly, Adams wants his officials to be adequate communicators. He looks for an official who deals with coaches, players and the staff at the scoring table "politely, concisely and forcefully." Finally, Adams looks at how officials "manage major moments": a technical foul, a last-second play or an angry coach. The more attention a play gets from fans, the more attention it gets from the supervisors.
There are also observers in the stands—usually former officials—who fill out a form evaluating the performance of the game's crew. Like Adams, they rate officials on whether the right calls are made and on how they communicate with others; they have cosmetic criteria, too—demeanor and appearance. It's difficult to find a chubby official at the high levels, and perfect posture is the norm.
Of course, basketball is too subjective for any universal standards. Different observers and supervisors see the game differently. The Big East, for example, has a reputation for allowing its officials to tolerate a more physical game than other, "softer" conferences.
Even the rulebook itself allows for subjectivity. The 2012-2013 NCAA basketball rulebook contains 157 pages' worth of instructions. Some calls—like out of bounds, goaltending and shot clock violations—are the same regardless of circumstances. Others are not so clear. Section 1, Article 1 of the rulebook, for example, reads: "A player shall not hold, push, charge, trip or impede the progress of an opponent by extending arm(s), shoulder(s), hip(s) or knee(s) or by bending his or her own body into other than a normal position or by using any unreasonably rough tactics." This rule requires the officials to decide for themselves what "impeded," "progress," "normal," and "unreasonably rough" mean.
Much more goes into a call than the presence of contact on a given play. "What is a foul on Monday might not be a foul on Thursday," said veteran official Steve Turner, who has worked high school and low-level conferences in the Northeast for several decades. Officials often take into account the score, the game situation, previous calls, the athleticism of the players involved, the potential for a game getting out of hand—all of these criteria weighed and held up against one another, on the fly.
Sometimes, this requires a certain degree of situational thinking. Late in a tight January game in Hoboken, N.J. between Division III rivals Stevens Institute of Technology and St. John Fisher College*, the three-man crew of Turner, Stevie Robinson, and Jorge Diaz encountered one of the most difficult plays in officiating: the "blarge." A St. John Fisher player drove to the basket and straight into the chest of a seemingly stationary defender. Diaz, in the lead position under the basket, raised his arm in the air to call a block. Turner, in the trail position near half-court, ran toward the key, lunged, and dramatically punched his arm to signal a charge. Based on their proximity to the play, Diaz's call should have won out, but Turner's theatrics made his decision more difficult to overturn. St. John Fisher coach Rob Kornaker flew into a rage. He screamed in Diaz's face: "That's bullshit. You saw that one. You blew it." He was loud enough to be heard from the stands. This was behavior that would typically draw a technical foul.