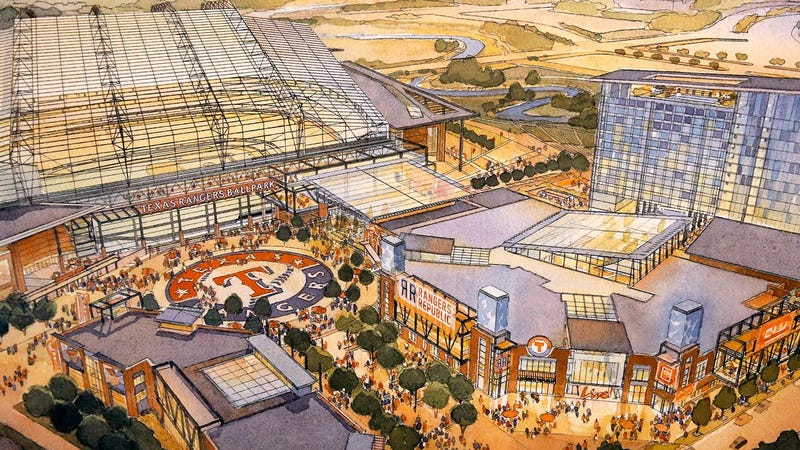 It is not unreasonable, I don't believe, to portray the pending fight over a new $1 billion stadium for the Texas Rangers as a proxy war—or at least a referendum—over the public financing of stadiums in America. Here is every variable that should make sports fans recoil in horror at the now-accepted practice of giving taxpayer money to billionaire owners so they can make even more profit:
They already have a stadium. A lovely one! The Ballpark in Arlington is 22 years old and functional and charming and modern. The Rangers' lease runs through 2024. There is no reason to build a new one.

The owners are loaded. The Rangers are controlled by a group led by Ray Davis and Bob Simpson, both oil magnates and both with personal worths measured in the billions.

The proposed stadium deal is pure blackmail. When the $1 billion stadium was announced, only $500 million of it was promised to come from the team itself. Why would the city of Arlington shell out half a billion dollars? Why would it spend anything? Because, even without having to say it, the implication—which is probably only a bluff—is that the Rangers will leave Arlington without a new, publicly funded ballpark to replace their perfectly fine one. The PAC formed to support a new stadium is even called "Keep the Rangers."

The stadium deal is shady as all hell. Arlington's mayor promised a 50/50 split of the cost. But as much as $300 million of the Rangers' $500 million share would be paid by a tax levied on parking and admissions. In literally every other ballpark deal, that tax has been used to pay the city's share, not the team's. Arlington and the Rangers are going to sell this deal as 50-50. It's 80-20, with taxpayers on the hook for up to $800 million.