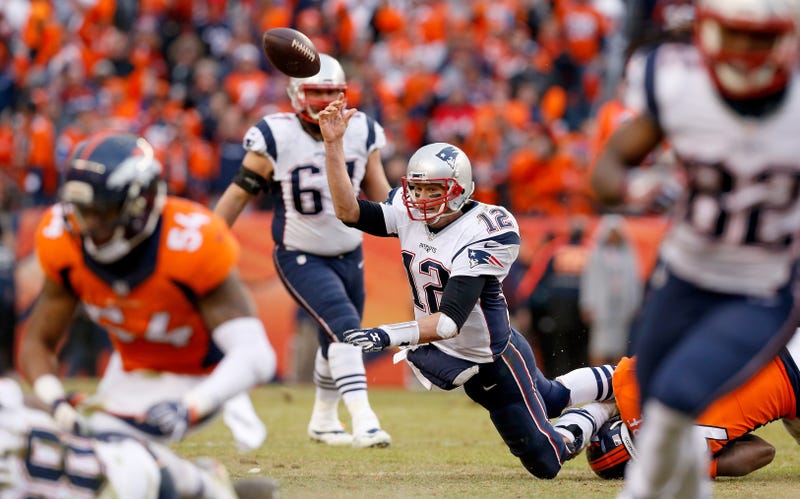 Stats don't always explain a game; this one does. The Broncos hit Tom Brady 20 times yesterday. No NFL quarterback has been hit that many times in a full decade.
There's something almost refreshing about the clarity of any top-level analysis of Denver's 20-18 win over New England. Denver's purely terrifying pass rush exercised complete dominance over the Patriots' patchwork offensive line—that's really all you need to know. The blueprint to beating Tom Brady was a familiar one for anyone who remembers the Giants' two Super Bowl wins: Get to Brady. Get in his face. Get in his head. Everything was dictated by the pressure.
"I got hit pretty hard today," Brady said. "...We never could play on our terms."
Part of it is that New England O-line, which, through a combination of injuries and a curious season-long strategy of rotating linemen, was a puzzle whose pieces never quite came together yesterday. This season, the Patriots started 13 different offensive line combinations—an NFL record for as far back as that specific record has been kept. Heading into Sunday, they had used 37 different line combinations overall. The system had largely worked.
But nothing seems to work against this Broncos pass rush. For any weaknesses the Patriots' protection may have, Denver has done this all season, to everyone. Von Miller and DeMarcus Ware and Derek Wolfe and Malik Jackson made Brady's life hell. So much of the Patriots' success is based on giving Brady time to let plays develop, but with his limited mobility, a near-complete shutdown of New England's run game, and the constant pressure, Brady was throwing off balance, rushing passes, throwing the ball away, or just eating turf.