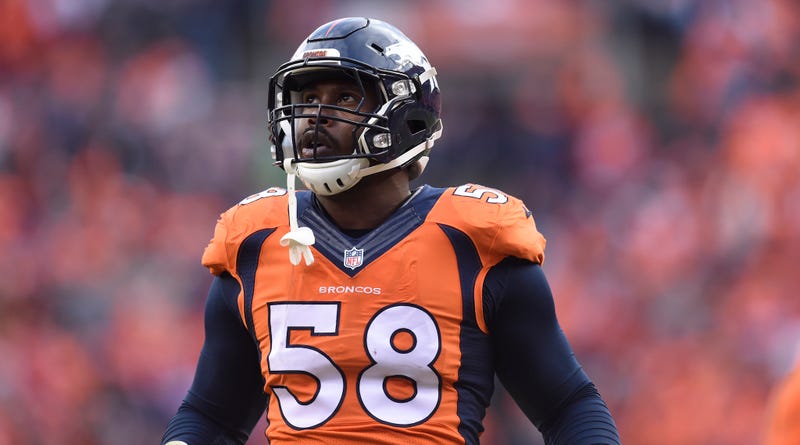 Just about everyone thinks the Carolina Panthers will win Super Bowl 50. ESPN asked 70 staffers for their predictions and 53 of them chose the Panthers. Eight SI writers out of 10 picked Carolina too. The Panthers opened as 3.5 point favorites and so many people bet on them, that the line swelled to 6 at one point. Drew has them winning. FiveThirtyEight lays out how Peyton Manning is the worst QB to lead his team to a Super Bowl, and they say Carolina has a 59 percent chance to win. Hell, this black bear picked them even though bears and panthers are natural rivals (in the jungle). I think they're all wrong, even the bear.
The chief argument against the Broncos is that their offense is sad and flawed. This is, sadly, true. Peyton Manning is still 84 years old and still nursing injuries everywhere. Gary Kubiak is committed to a run-based gameplan that hasn't really done much of anything thus far in the playoffs. It's not fun to watch.
But the great thing about the Broncos' defense is that Peyton doesn't need to be anywhere near his best for the team to win. He's been butt all year, and they collected 12 regular season wins and two weird playoff wins. So, any way you spin it, Denver's passing offense is an area of weakness, but they still have an impressive collection of talent to play with.
Even in his zombified state, Manning is good for about five perfect throws a game. He had Emmanuel Sanders on a beautiful and potentially game-killing touchdown against new England, but Sanders dropped his route. Manning isn't going to come out and throw 25 deep balls or try to roast Josh Norman just for the hell of it, but, across the span of his career, there's a far longer track record of him playing like an elite quarterback than a decrepit one. If he isn't a complete disaster, which isn't that high of a bar, Denver will be fine.
And that's because of Von Miller and DeMarcus Ware. Bill Barnwell made the case over at ESPN that Carolina's offensive tendencies negate the edge-rushing advantage Denver's two outside linebackers have. His point is that the Panthers run so much that Denver can't afford to send their two whirling dervishes of death flying in towards Newton. They run a lot of stuff out of the shotgun, which, "paralyze[s] the front seven of opposing defenses." Sure, but Denver has a number of luxuries that dull the Panthers' advantages.