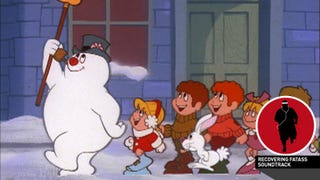 So I broke the streak last week and if there's one thing I've learned about myself it's that given the slightest excuse not to run, I will take it. Since breaking the streak I think I've run once. Maybe twice. Either way, it's been to a bunch of Christmas songs because Christmas songs are awesome and because not everything about running should have to suck balls. Here's the Spotify playlist.
"Last Christmas," Wham
You bet your ass I am starting off with this song. Why? Because if you don't like Christmas songs you can go straight to hell. Straight. To. Hell. That's why. I'm sorry, you don't like a little joy in your life for one lousy month? You have to be cynical about every last thing on earth so instead of just bopping your head along to some festive tunes you have to complain about how Christmas has been commercialized or Song X was just a cash grab by Band Y? Please get royally fucked.
"Sleigh Ride," Johnny Mathis
What about music the rest of the year? That's all on the up and up? Fucking Lady GaGa isn't some charlatan harlequin dressing up like an asshole for money? She's an artist? Again, get fucked. Get fucked, then listen to Johnny Mathis sing about a birthday party at the home of Farmer Gray. That'll get your juices flowing in ways Terry Richardson and Miley Cyrus wish they could.
"Baby It's Cold Outside," Leon Redbone and Zooey Deschanel
I don't remember hearing this song before I saw Elf so it's a relatively new addition to the mix, but it seems that movie has spawned all sorts of different versions. So much so that I'm pretty sure there have been Think Pieces written on it. Which, fine, it's real creepy when you think about it. But the worst, the worst version of this song is by Jessica Simpson and then-hubby Nick Lachey. They made a Christmas album and my wife owns it and it is somehow creepier than Dean Martin getting a woman all sauced and keeping her from going home. Jessica Simpson sings songs like "Silent Night" and "Away In A Manger" like she's trying to seduce the infant Christ. It's really weird. But it's Christmas, to each her own.
"I Yust Go Nuts At Christmas," Stan Boreson
Like, this is my weirdo track. It's just some goofy-ass song set to "Twas The Night Before Christmas." It's OK to just like things sometimes, even if they're sappy. And you are allowed to be sappy for Christmas, it's the whole point of the season. That's why people have Ugly Sweater parties and watch A Christmas Story 73 times in one day. These things are not objectively good or fun; they are objectively hokey. But it's OK, because it's all nostalgia. The bad sweaters weren't Bad Sweaters back when you were a kid, they were just sweaters you wore when you were a kid. Jean Shepherd is just some dead guy I never met, but I watched that movie every year at least a dozen times, so I'll keep it on in the background this year, look over at the TV every now and then and remember how I used to watched it as a kid.