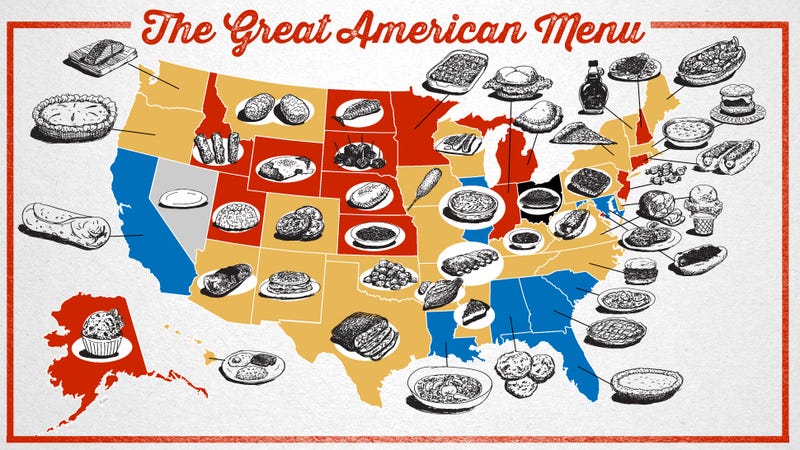 What are the United States' best regional foodstuffs? Its worst? These are the questions that bedevil the mind of man—but no longer! For here, we have ranked them. Rigorously scientific (not), ardently researched (nope), and scrupulously fair (not even a little bit): this is the Great American Menu!
Each state (plus the District of Columbia) gets one, and only one, signature foodstuff. And we selected actual food preparations; no state gets credit merely for being the geographic location where a certain edible flora or fauna happens to grow or swim or graze. But enough of that bullshit. On to the rankings! (For a full-size version of Jim Cooke's map, click here.)
---
The Greats
1. Chicago-style deep-dish pizza (Illinois)
Man is mortal. He frolics upon the grass of life for but a short season, and then is snatched back to the inanimate dirt of his origin. The Chicago-style deep-dish pizza, America's greatest regional foodstuff—all those toppings, good God so much cheese and meat, I can hear my heartbeat, this can't be right, it sounds like a goddamn chainsaw, can that be right?—will greatly hasten that day's arrival, but it will also fill at least a little part of at least one of those days with a transcendent, mind-boggling, outrageously indulgent sensory experience. This is the best thing any food can do, and certainly far beyond the capabilities of [stares daggers at New York] a sheet of soggy cardboard with a flap of waxy melted cheese stretched across it.
---
2. Shrimp and grits (South Carolina)
Shrimp. Grits. Tasty, satisfying, authentically South Carolinian. Perfect.
---
3. Mission-style burrito (California)
The Mission-style burrito is especially great because, nowadays, you don't have to go all the way to California to get a good one. In fact, you can even leave California at 125 miles per hour, screaming and crying because your organ systems are rightly rejecting the state of California like a grafted-on walrus tail because California is awful, and still get a tasty Mission-style burrito pretty much wherever you end up! This is because a Mission-style burrito is just a really fuggin' large burrito with extra rice and (figurative) shit in it. Mmmmmmmm.
---
4. Crab cake (Maryland)
As we've established (here, here, and here), blue crab—particularly the Chesapeake blue crab—is the best of all ingestibles. However, the Maryland crab cake ranks fourth on this list, simply because so many of the various foodstuffs calling themselves crab cakes are really just mildly crab-flavored bread wads for ninnies, which are nonetheless priced as though they contain some quantity of actual by-God crabmeat measurable in units larger than the zeptogram. This means that the best way to obtain a genuine crabcake, rather than an OldBayseasoningandcrushedcrackerscake, is to make one at home—and, so long as you can find yourself a tub of crabmeat to work with, you don't have to be anywhere near Maryland to do that. (That's a good thing. Maryland drivers. Holy shit.)