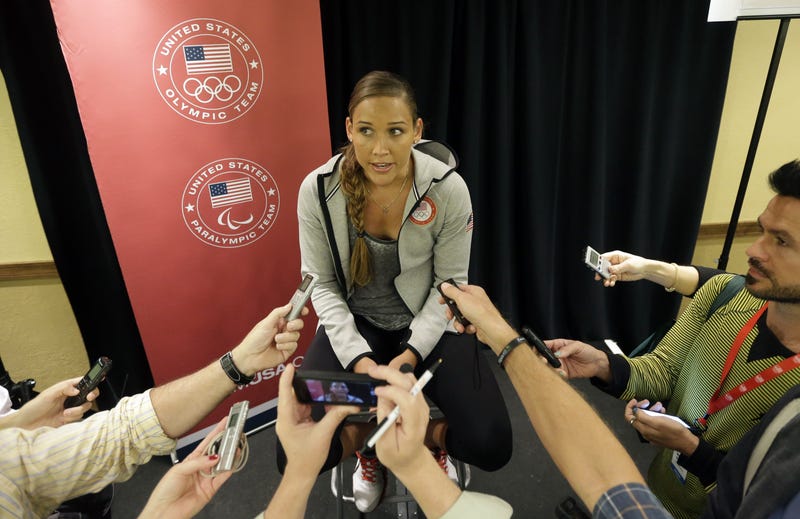 Earlier tonight, track/bobsled athlete Lolo Jones posted a tweet with Drake and Rihanna being the butts of her joke. That did not go over well with Rihanna's enormous fanbase, along with others.
Lolo was hit with a lot of brutal stuff, including references to her stumble over the ninth hurdle at the Beijing Summer Olympics. It's still going on.
Rihanna has dated one athlete, so that joke isn't even kinda valid. dusty bitch @lolojones.

— Vaun. (@_Vaun) April 11, 2014
you bad-built, wide-jawed, no medal winning, disappointment @lolojones. focus on your craft not rihanna. pic.twitter.com/ixIsErE89A

— Vaun. (@_Vaun) April 11, 2014
So, what exactly did Lolo Jones' fail-magnet ass do now?

— Gunstar Red (@8bitanimal) April 11, 2014
At least Rihanna gets some use outta that jerk chicken smellin' jizz box and doesn't let it collect lint like yours, @lolojones.

— Big Bad Booty Daddy (@jsfulton13) April 11, 2014
@lolojones that ball in ur avi the only bit of action you ever getting you dyke she-hulk irrelevant fiona from shrek in the face lookin ass

— cuh. (@rihluminati) April 11, 2014
I heard people saying Lolo Jones was tripping again, but I assumed they just meant over a hurdle. Again.

— KNEEZUS (@fakepaulk) April 11, 2014
@lolojones bitch she dated ONE athlete come harder than that with yo second place ass

— Teeoncé (@TiaraDanyel) April 11, 2014
@lolojones girl pick a bridge & jump

— briona. (@brixcole) April 11, 2014
If they put a finish line at the end of the red carpet at the ESPY's, @lolojones won't enter the building.

— 6th Hokage (@35DBack) April 11, 2014
.@rihanna in the event that you see @lolojones in person please throw a carton of vitacoco at her forehead.

— Dulce le Chunky (@denzelwynter) April 11, 2014
Rihanna is fitna drag @lolojones like she drug that hurdle with her back leg.

— Charles Wade (@akacharleswade) April 11, 2014
If Lolo Jones could run #DemFeets like she run her mouth she'd be a champion

— Cerrome Russell (@CerromeRussell) April 11, 2014
@lolojones Have a seat. Meditate on the fact that you and Lil Terio have the same amount of gold medals.

— lyssa (@alybabe123) April 11, 2014
Look at @lolojones attempting to come for Rihanna pic.twitter.com/1om70X4opX

— Sherlock Holmegirl (@MentionMeT) April 11, 2014
Rihanna has an album called "loud" which ironically describes the sound of that hurdle @lolojones missed

— alex newell (@alneeZy) April 11, 2014
Don't check Twitter for at least a week, Lolo.