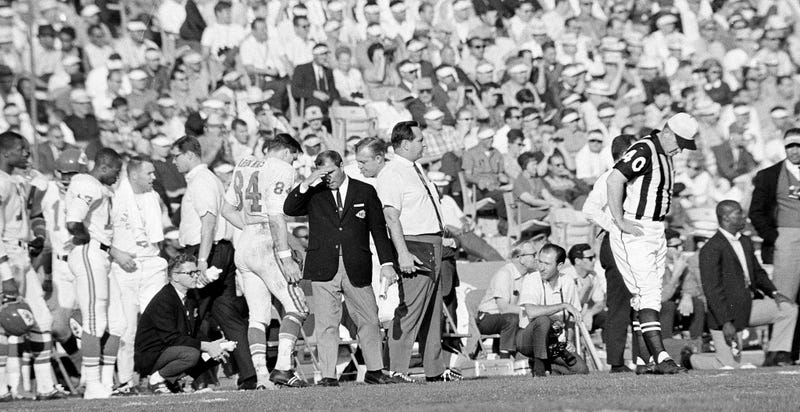 In January the NFL Network broadcast the first ever replay of Super Bowl I, contested 49 years ago between the NFL's Green Bay Packers and AFL's Kansas City Chiefs. But as the league's press release notes, it wasn't a replay of the original broadcast. Instead, they located "all 145 plays from Super Bowl I from more than a couple dozen disparate sources," remastered the footage, and stitched it together. This video footage was paired with audio from the NBC Sports radio call of the game.
Here is how the NFL explains why they had to do all this work:
Considered to be the Holy Grail of sports broadcasts, the CBS and NBC tapes of the game were either lost or recorded over and no full video version of the game has existed ... until now.
This explanation is technically true, but uses a number of weasel words to achieve that truth. There is another source of video footage, along with the original broadcast audio, of Super Bowl I. But the NFL refuses to purchase that tape, and furthermore, is doing everything in their power to make sure nobody else can purchase it either.
Today the New York Times published a fascinating story about a man named Troy Haupt, who owns a mostly complete recording of Super Bowl I. His biological father, Martin Haupt, recorded the game for an unknown reason, and his mother saved the tape for decades.
Haupt's recording of the game isn't perfect, but it's by far the most complete known recording, and importantly it has the call by Ray Scott, Frank Gifford, and Jack Whitaker:
Colors fade in and out. The picture is grainy and skips. And it suffers somewhat from Martin Haupt's decision to stop or pause before most commercial breaks and hitting play when the break ended, which caused him to miss parts of the action when play resumed. The stops and starts give the tapes an occasional herky-jerky feel.

And more important, he did not tape halftime and about half of the third quarter.

"It's like he thought he would run out of tape," Troy Haupt said.

[...]

A 1960s sensibility is preserved, helping to separate the tape from the NFL Films reconstruction.
What is surprising is that the NFL, normally such a great steward of its history and rightfully proud of the amazing work done by NFL Films, doesn't seem to give much of a shit about Haupt's tape. Haupt sought to sell it to the league for a million dollars—a lofty sum no doubt, but this is also the closest thing to what the NFL itself calls "the Holy Grail of sports broadcasts"—but the league countered with just $30,000, and now say they have no interest in buying the tape. What's more, they're trying their darnedest to make sure nobody else buys it either.