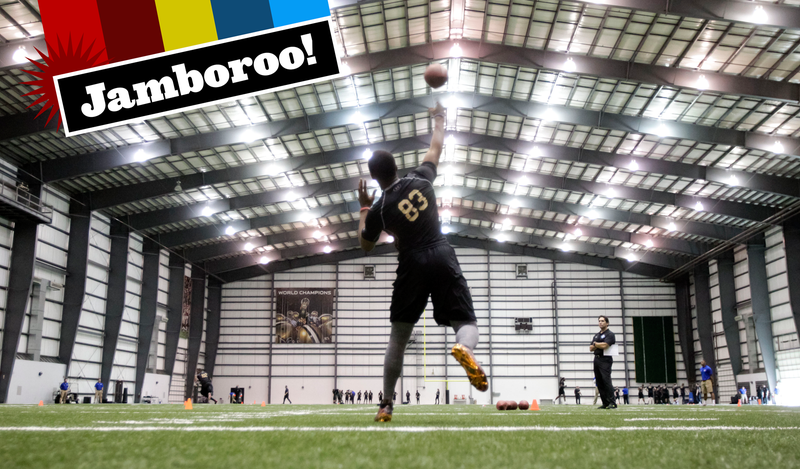 Drew Magary's Thursday Afternoon NFL Dick Joke Jamboroo runs every Thursday during the NFL season. Email Drew here. Preorder his new book here.

The NFL is irrational on many levels, especially given the big ginger moron who runs everything. But the most irrational thing about it is that the price of the top pick in the draft—or a pick in close vicinity to it—has continued to be enormous even though both the data and the existence of Ryan Leaf have long since proven that it's better to have many good draft picks instead of just a great one. Of the three rookie quarterbacks in history—Leaf, Eli Manning, RG3—acquired by trading away a buttload of picks, only Manning has had a long, successful career, and he's still an immensely irritating player in spite of it.
In fact, even when you don't hand over a king's ransom, trading up for a quarterback usually turns out badly. Jeff George, The Original Jay Cutler, was acquired for a first-round swap, plus Andre Rison, Chris Hinton, and a fourth rounder. Michael Vick was acquired for a first-round swap (the Chargers then used the No. 5 pick on LaDainian Tomlinson), plus Tim Dwight and a second rounder the next year. To find a successful, low-cost QB trade-up at the top of the draft, you have to go all the way back to the Colts trading John Elway to the Broncos (in a strange quirk of history, Chris Hinton was ALSO involved in this trade).
Further down in the draft, teams have traded up for the likes of Blaine Gabbert, Christian Ponder, Brady Quinn, Johnny Manziel, and other spectacular failures. Trading up is a shitty idea. Whenever some chucklehead like Adam Schefter regurgitates the scoop that Team X is looking to trade down, I make a one-hour wanking motion. Everyone wants to trade down because everyone knows trading up is idiotic.
So, with that in mind, why did the Rams and Eagles just trade away EVERYTHING for the chance to take Jared Goff and/or Carson Wentz, both of whom are clearly not surefire prospects? It's one thing to pony up for Andrew Luck, but Dakota Boy? What the fuck is going on? Let's look at some of the mitigating circumstances that cause a team to lose its mind and do this:
1. Every team needs a quarterback. This is obvious and true. Luck out on a QB and you've got job security for the next 10 years, unless you're a blithering idiot like Ryan Grigson. Not only is a QB essential, but it also frees you to be lazy. You can win 10 games a year with a great QB and a shit roster, and plenty of teams have done just that, because cobbling together a stud defense and keeping it intact for years is just as difficult as finding a good QB, if not more so. Ask the Broncos, who just lost Malik Jackson and Danny Trevathan to free agency.
2. Rookie quarterbacks are cheap. Thanks to the rookie cap, you can draft a quarterback No. 1 overall and not be crippled by the kind of insane deal that players like Sam Bradford used to receive. The estimated cap number for that first overall pick this year is a mere $5 million. Perversely, that gives you a greater incentive to draft a player who is more likely to suck, which means…
3. You are freer to fail with a QB. Ask Vikings GM Rick Spielman, who gambled on Ponder and still managed to keep his job. Since everyone knows that rookie QBs are a gamble, it's easier to draft one and then blame the FOOTBALL GODS if that QB turns out to be a dud.
4. Defenses are crippled by the rules SMDH. In theory, it's a lot easier to play quarterback now that defenders get a 15-yard penalty for merely discussing the act of tackling you. Plenty of quarterbacks are still god-awful despite this, but thanks to lax rules and proliferation of spread offenses, quarterbacks are, statistically speaking, more efficient than they used to be.
5. A rookie QB is a good sales pitch. He might suck, but he hasn't started sucking YET! Come see him!
6. Everyone is scared shitless. Our own Barry Petchesky was right to note that, the way the league is currently structured, a team like the Rams is justifiably compelled to give away two years' worth of good picks (they may as well have given Tennessee the one yard that Kevin Dyson needed back in 2000 while they were at it) in order to get itself a quarterback.