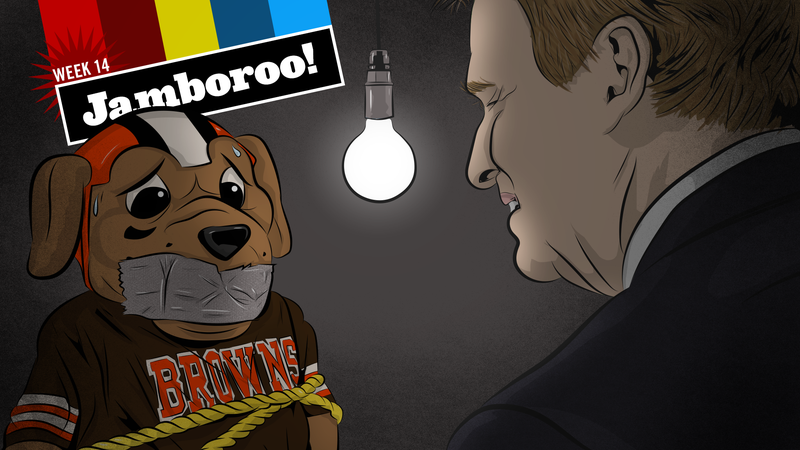 Drew Magary's Thursday Afternoon NFL Dick Joke Jamboroo runs every Thursday during the NFL season. Email Drew here.

The first Monday Night Football game I ever watched in its entirety was a Cleveland Browns game. This was back in 1990, when I had a set bedtime and I had to sneak downstairs if I ever wanted to watch football late at night. I'd sneaked down there before, but usually I hurried back up before the game was over because I was scared shitless that my folks would catch me and yell at me. It took me a while to build up the courage to watch a game in full.
I was a Vikings fan but I also liked the Browns because I was still a kid and sports bigamy is a little bit more acceptable for children, because children are fickle and stupid. I liked Frank Minnifield's orange cleats. And I liked Bernie Kosar because, despite his Miami pedigree, watching Bernie Kosar was like watching someone let a stray dog play quarterback. Even when the Browns were a good team, they were never convincingly good. They seemed to have to work twice as hard to be good as other random teams. They were more than happy to play the part of perpetual, lovable underdogs. Also, they had the Dawg Pound and I liked the Dawg Pound because I was also watching a lot of Arsenio at the time ("And those people over there… those are people who think a Furby is a sexual position WOOF WOOF WOOF"). I was highly impressionable.
Anyway, I finally stayed up and watched the Browns win in Denver 30-29 on a last second field goal, three years after The Drive and two years after The Fumble. A random MNF win against the Broncos during a 3-13 season can hardly be counted as revenge. But if you like the Browns, you take whatever scraps of mercy the Lord gives you. I didn't know at the time—couldn't have known—that such a dramatic but ultimately small victory would be one of the scant few highlights of this franchise's existence for the next 25 years.
I don't really need to recap what has happened to the Browns since then. Every coach they've hired, including the greatest head coach of all time, has failed. Every quarterback they've drafted has also failed. Every GM… every scout… all bad. They've had no continuity in management, coaching, or even player position groups. We list their ongoing fuckups every year, and every year we have glaring omissions. It's just too much to remember it all. Just this week, they reportedly gave the starting QB job BACK to Johnny Manziel, only to have their head coach—the man who is ostensibly in charge of such decisions—refute that report, and then openly talk about the disunity that is running rampant throughout the organization (Manziel, by the way, is officially starting Sunday).
The GM is a boob. The owner is a fucking crook. They couldn't even orchestrate a proper fire sale at midseason and trade Joe Thomas to Denver because they couldn't get the deal done in time. Their single greatest accomplishment since coming back into the league in 1999 was hoodwinking the Colts into paying top dollar for their own failed draft pick, which they then parlayed into another failed draft pick. They also share a division with the team they USED to be, a well-run team that has become the very model for everything the Browns WISH they could be.
Between Will Hill pulling a Georgia Tech on the Browns last week and the Bengals curb-stomping them a few days later, this has ceased to be all that humorous. As presently constituted, the Browns are not particularly lovable. You can't call them underdogs because calling someone an underdog suggests they still have a chance. When the NFL preserved their records and uniforms and brought them back in 1999, it was operating under the idea that football is better off with the Cleveland Browns, and better off when they do well. But football hasn't been better off since their resurrection, mainly because they've gone from being owned by a shady credit card magnate to being owned by an even shadier trucking magnate. This is shoddy operation that makes the rest of the NFL look cheap and shitty for having it around.