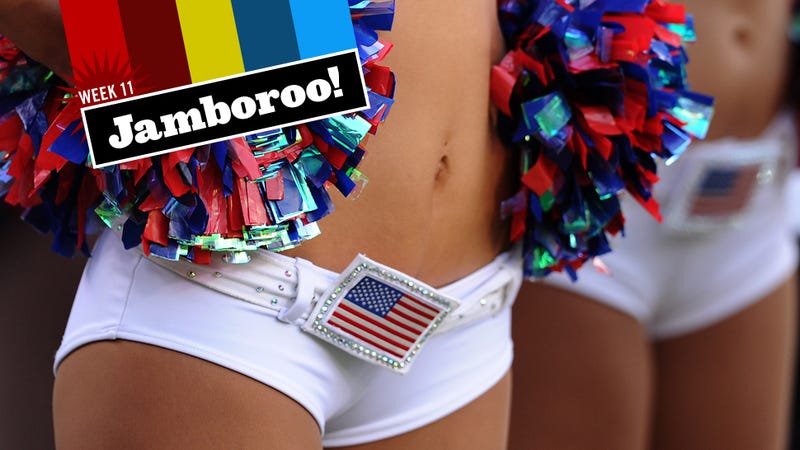 Drew Magary's Thursday Afternoon NFL Dick Joke Jamboroo runs every Thursday during the NFL season. Email Drew here.
So with Breast Cancer Awareness out of the way, the NFL shifted feel-good themes last week to honor Veterans Day with a "Salute to Service." They rolled out commemorative footballs and a special camo-pattern ribbon, and the announcers thanked the troops, and @NFL tweeted out large-scale tributes to military personnel like this one:
The league gives $300 to military charities for every point scored during 32 designated "Salute to Service" games in November (for a total donation thus far of $228,900). The NFL says it donated $800,000 in all last year. And that's all very nice. Like everyone else, I love the troops, I am grateful for the insane sacrifices they have made on behalf of the country, and I feel eternally inadequate for not doing MORE to support them and for not pitching into wartime efforts that are conducted, in theory, to my direct benefit. I'm the suburban coward who gets to blissfully ignore the tumult across the world while playing Candy Crush or whatever, and I'm for anything that helps get the troops money and/or added recognition.
But come on now: That $800,000 donation is essentially the world's cheapest licensing agreement, giving the league carte blanche to integrate armed forces branding into its website, its TV broadcasts, its apparel. For that small sum, the NFL gets to lease the goodwill and critic-proofing armor of the American military.
The league and the military have achieved such perfect symbiosis at this point that we don't even bat an eye at promotions like this. You know what I'm talking about: the hardass coaches who plot out offensive schemes as if they were executing troop movements along the Somme; the sportswriters and broadcasters who use war metaphors for football; the politicians who use football metaphors for war (the briefcase full of nuclear launch codes was at one time known as "the football"); the commissioners who trip all over their dicks to score photo ops with military higher-ups. We're so used to this stuff that we don't realize how crass it can be. It's one thing for individuals like Tom Coughlin to sacrifice their time and maybe a little of their personal safety to visit the troops overseas. That's a pretty cool gesture. But SALUTE TO SERVICE? That's horseshit. That's an ad campaign. That's a cheap way for the league to position itself as a kind of unofficial sixth branch of the military.