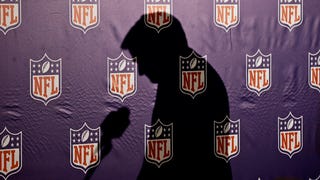 The bad thing about the corruption in NFL reporting is that there's literally no way for a league higher-up to fuck up badly enough to be held to account by the people best positioned to do so. The good thing is that if you want to know what the NFL wants you to think, all you have to do is read what stooge reporters write. Take this line from SI.com's Peter King, attributed to "a source with knowledge of NFL commissioner Roger Goodell's mindset":
"Roger has determined that he will be a leader in the domestic-violence space."
A skeptical reader might question this claim. Given King's reporting techniques, it's quite possible that his source may not actually have any knowledge of Goodell's mindset. Maybe he doesn't know Goodell at all! Maybe he's some random guy who saw a picture of Goodell looking particularly flinty-eyed and steely and just assumed he wanted to lead "in the domestic-violence space." (What a phrase. Will Roger Goodell disrupt the player-conduct paradigm next? Is he a thought leader who'll pivot to the criminal-justice space, too? Is Peter King's source a TED talk?)
Whatever the case, given King's distinguished history of uncritically passing on the league's political line to readers, we can probably assume that this actually is a league-approved message, an idea supported by a tweet Washington Post reporter Mark Maske sent out this morning, which claims the commissioner "is said" (by ... someone) to be working around the clock to solve all the problems he created.