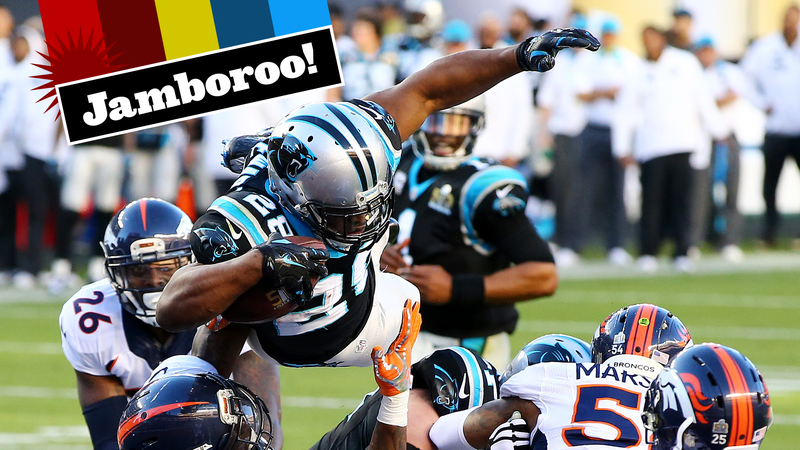 Drew Magary's Thursday Afternoon NFL Dick Joke Jamboroo runs every Thursday during the NFL season. Email Drew here.

The Super Bowl is over, which means that's it time for (GUHHHHHHHHH) the NFL offseason, which means we're in for another seven months of people debating the very existence of football, without any real football on TV to help distract me from the argument. I may have to take up reading instead, which is a terrifying prospect.
Football is, undeniably, a brutal collision sport that takes a heavy toll on the body and mind. And the NFL has spent the better part of this decade enacting new ad campaigns and rule changes and safety programs and equipment innovations all in the name of convincing you that A) The game can be safe, if played "correctly," and B) They're already making football safer for you and your little ones.
These are lies, of course. You can fine and eject big hitters. You can make pee wee players watch a million boring instructional videos. You can make the helmet lining out of cotton candy. None of it will change the fundamental dangers of the sport.
EXCEPT… The pads and helmets.
Pads and helmets make football dangerous. I am far from the first person to suggest this, and I won't be the last. There are colleges that practice without helmets now. There's a 7-on-7 league in Jersey that uses no pads or helmets at all. Even Mike Ditka, who is an old insane man, thinks the NFL should do away with face masks at the very least. This all sounds counterintuitive, but it's true. If you take away helmets and pads, you will force players to instinctively protect parts of their body that they otherwise don't bother to protect.
Despite all the tape study and micromanaged game plans, football is an instinct sport. The best players are the ones who can make snap decisions without thinking, and the goal of practice is to IMBUE players with those sound instincts. That's how the NFL cooked up the idea of Heads Up football. It posits that you can train young players to instinctively get their brains out of the way when a big hit is coming.
But a helmet makes it far too easy to forget, or even disregard, that training. If you've ever put on shoulder pads and a helmet, you know this. You feel like a fucking GOD. You feel invincible. You feel like running into a goddamn wall. And why not? You're protected by a shell of hard plastic. Any high school football pregame features a bunch of raging-hormone teenage boys who desperately want to hit the fuck out of everybody, even their own teammates. And the reason they feel so free to do that is because of the padding. It's irresistible. You can practice and practice and practice all you like. Only a blessed few will have properly trained their brains to avoid dangerous contact. And frankly, some guys will happily ignore the protocols anyway. Look at what fucking Aqib Talib did in the Super Bowl:
He knew that was dangerous and he did it anyway. Take away the pads and helmet it's a different story. There's no face mask to grab and twist. It's harder to rip a man's head clean off when it's just a head.
If you take off the helmet, your brain won't ALLOW you to go to bashing into another person. The instinct to protect yourself is already there, switched on, with no training necessary. Would it rid the sport of concussions entirely? No. Of course not. Aussie Rules football is played without pads, and that sport also has its issues with head injuries. But it doesn't have nearly as many problems as the NFL currently has, with former players committing suicide or walking around in a gray fog for the final three decades of their existence.
But the NFL will never do this and, in fact, has never experimented with the idea. Given the sport's problems, you would think the NFL would build some kind of national safety lab and then hire 50 former players to test out new rules and then bring those rules to market once they've been proven effective. But no. No, what the NFL is doing is selling a bunch of rose-colored bullshit without fundamentally changing the nature of the sport. They'll never get rid of pads and they'll never get rid of helmets, and the reason is branding.
Think about the football without pads. Is it football? I bet a lot of fans would say no. The NFL has built its image on helmets and pads. The helmet IS your team. The helmet is what you see in the Tecmo Bowl intro. For ages, one helmet smashed into another in the MNF opening credits. Every team at the draft has a helmet sitting on its table. So the NFL will tweak and fiddle with helmets, but they'll never ditch them because they're invested in helmets.
They don't want to turn away fans who see a helmet-less and pad-less NFL and decide it's not the NFL anymore: not as dangerous, TOO PUSSIFIED, no longer worth watching. The players are no longer invincible. They're no longer larger than life. They're no longer gladiators. The satisfying THUD of the pads crashing into one another is gone. I'm not even sure that, as a fan, I would accept padless football. I would have a hard time watching it because, after decades of watching padded football, watching the game without all that equipment would look like practice to me. And the NFL, for all its chatter about making the game safe, can't afford to lose fans like me because it would cost them money. Money money money. The driving force is ALWAYS money.
And it's a shame because, in the long-term, maybe a padless NFL could succeed. As it stands now, every player on the field has his face partially obscured by a mask. I wouldn't mind seeing Odell Beckham's hair flapping in the wind as he scores a touchdown, or watch J.J. Watt bark at the moon after bringing a QB to the ground. Even though it's now a penalty, a lot of players used to celebrate great plays by whipping their helmets off. Why? So you could SEE them. Seeing them is fun. Seeing them makes you care.
If the NFL acts NOW, maybe they'll stem the tide of players retiring early, and parents pulling their kids from youth leagues, and former players filing big-ass lawsuits. All of that will continue if football goes on as presently constituted. As it stands now, the league makes little chickenshit changes from year to year that ultimately amount to very little, and end up making the finished product sloppy and poorly officiated. And the only goal of those changes is to hang on to the insane TV and stadium revenues that are still pouring in. They're short-term solutions. In fact, improving helmets and shoulder pads will probably only serve to increase the number of small-impact collisions that often add up to massive brain damage. The better the pads, the harder you feel you can hit someone. And plenty of people already think the game has been diluted thanks to these incremental measures. So why not take the risk and make one truly drastic change to the sport that could have a real and substantive positive impact in the long term?
But the NFL won't do it. They won't even try. And the bubble is coming. One day, everyone will cut the cord and stop paying PSLs and the money won't be quite as abundant as it once was (OMG FLAT REVENUES NOOOO), all because the men in charge of football weren't brave enough to destroy it.
Now, with that said, it's time to close up the Jamboroo for the year…
The Games
None. It's over. It's all over. Normally I would be sad, except that the NFL offseason has steadily grown more insane with each passing year, so who knows what's in store for us over the next seven months. Maybe Russell Wilson will Google instructions for how to kill a man. Maybe scientists will discover that football causes instant nut cancer. Maybe the GOP will draft Roger Goodell for the South Cackalacky primary. YOU NEVER KNOW! Something weird will happen, and then Adam Schefter will tweet, "Wow! The NFL never sleeps, folks!" and it'll be really annoying. We are so blessed.