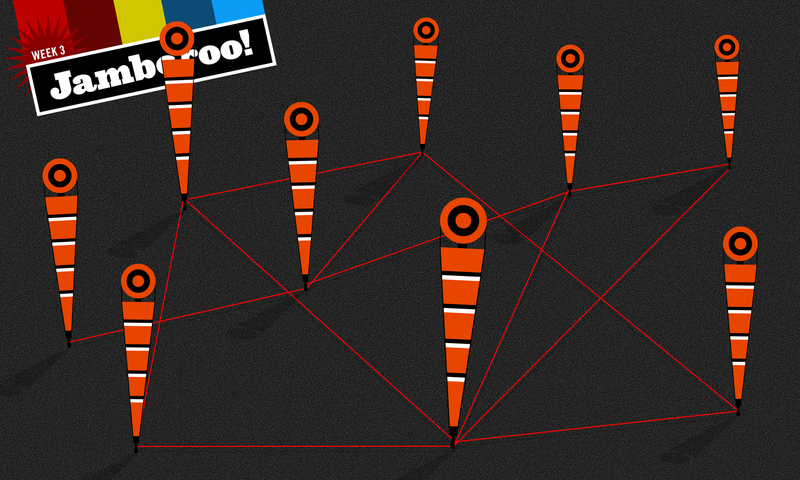 Drew Magary's Thursday Afternoon NFL Dick Joke Jamboroo runs every Thursday during the NFL season. Email Drew here. Buy his book here.

People, I have shocking, not-actually-all-that-surprising news that may make your fucking skull EXPLODE. Not only will your skull explode, but all the little skull bits left from that explosion will ALSO explode. That's how ball-shattering the news I'm about to give you is. Reader Matt writes in:
Have you noticed the NFL has basically stopped bringing out the chains to see if it's a first down? It used to happen like five or six times a game. Now it's like, "Yea, it's a first down, let's go." and coaches don't even bother complaining. Even on QB sneaks, the first down is just given unless the QB is clearly knocked back. I call bullshit! Some of us still like defense.
Well Matt, you're right to be suspicious. Because I have discovered that there's a filthy, nefarious conspiracy between the NFL and officials going on RIGHT UNDER OUR NOSES to reduce the number of on-field measurements. This was detailed by Cork Gaines over at Business Insider back in January, and it could change EVERYTHING (or nothing… probably nothing).
The gist is that refs cheat on ball placement. If you make a first down between the yard lines—say, 35.8 yards from the end zone—the ref will often place the ball at the 36, so that the chains are planted right on the yard lines, which makes it easier to judge a first down from afar. This means that sometimes you get awarded a little extra yardage, or have some taken away, all because the refs are LAZY.
Also, the NFL could automate measurement if they really wanted to, but there is evidence that they have DELIBERATELY avoided it so that they can carry on with this brazenly crooked analog chain business. Tennis has electronic line judges, so you might ask: why doesn't football? (NOTE: Brazen technological ignorance forthcoming.) You could just line the field with little sensor things, and they could beep if the ball crosses the first down marker, or the goal line, and they could make a terrifying HONK sound if a wideout steps out of bounds on a catch. That would be more accurate than trotting out a couple of teamsters to do the job, right? Well, it turns out the NFL likes those fatties ambling out there once in a blue moon:
Insidious, isn't it? It literally goes all the way to the top! BURN DOWN LEAGUE HEADQUARTERS, I SAY. The NFL is willfully bending the rules and threatening the integrity of the game all because they're in thrall to BIG CHAIN. If they're willing to distort a meager little first down play, what ELSE are they doing behind our backs, hmm? What's REALLY in those Bud Light team logo cans? Some kind of mind control serum? Roger Goodell is essentially a Die Hard villain to me at this point, so I put nothing past him.
By the way, in a vacuum, I support any ethical breach that suits my personal needs. If Goodell weren't involved, I'd be fine with a shadowy NFL conspiracy that reduces the number of times the chains are brought out during a game. I'd rather have the ref eyeball the spot (which announcers can do accurately from 500 feet away up in the press box—even Simms can get it right, and his brain is 50 percent styling gel) than sit through one more goddamn delay, with the ref clipping a little marker to the yard line and then running out with the chain gang to the opposite side of the field (Like I've said before, the measurement is ALWAYS on the opposite side of the field from the chain gang) and looking like escaped bank robbers in a silent movie. No thanks. If it were any other commissioner pulling this chicanery, I wouldn't even take notice. But since it's Goodell, I say FULL IMPEACHMENT HEARINGS. This man must be detained and then imprisoned on a volcano island. The fate of the game is at stake.
The Games
All games in the Jamboroo are evaluated for sheer watchability on a scale of 1 to 5 Throwgasms.
Five Throwgasms
Steelers at Eagles: I was watching the Steelers play the other week with my family and I explained to my oldest kid that DeAngelo Williams has pink dreads as a tribute to his late mother, who died from breast cancer.
HER: That's really nice of him!
ME: Right? He seems like a good dude.
HER: I'm gonna call him Mister Breast Cancer.
ME: HOLY SHIT PLEASE DO NOT DO THAT.
By the way, Carson Wentz is legit. I can't even hate. He's polished and accurate and the size of a goddamn mountain. I fear his rookie poise.
Broncos at Bengals: I've actually been watching a lot of football with my kids now. And as much as I enjoy their company, and as much as I want them to watch with me, we're still in the phase where they don't understand what the fuck is going on out there. That means that every game is like a Super Bowl party populated with NOTHING but casual fans. What are those sticks for? Are there actual broncos on the Broncos? Who is that guy? He looks fat! And on and on. I can't answer all these questions under duress. I need to buy an Amazon Echo to do the job for me. Football is best with TOTAL SILENCE, as far as I'm concerned.
Vikings at Panthers: Adrian Peterson is done for the year, and my hottest take is that the Vikings don't need him and should have parted ways with him BEFORE this season, when they could have invested more money in what remains a horrific offensive line. Picture an offensive line that is somehow worse without Matt Kalil. That's how bad the Vikings line is.
I'm like a lot of other fans in that Peterson was my favorite player until I discovered—along with the rest of the world—that he's a lunatic who unapologetically whips his kids right on the nutsack. But moral issues aside, every analyst at the beginning of this season was like, "They gotta try to win a Super Bowl with the few years Peterson they have left!" That's dumb. No team should ever build around an old running back, much less one that eats up as much cap room as Peterson currently does. The Vikings' line woes only prove that, as gifted as Peterson is, he can't overcome shitty run blocking.
What's more, it wasn't just the blocking that caused Peterson to run for 1.6 yards a carry in those first two games. Some of that was on him for missing holes and shimmy-shaking behind the line of scrimmage, a cardinal sin that he used to be able to get away with, but maybe no longer can. This isn't an anecdotal take, by the way. There's history backing my snarky ass up:
The Vikings will be fine without Peterson. I mean, they'll end up choking to death, but they'll be jusssst fine otherwise.
By the way, the Vikings have a new stadium patch on their jersey and it's the size of your head. It makes it look like the stadium died.
Four Throwgasms
Texans at Patriots: Secretly I think Bill Belichick wants all his QBs to get hurt so that he can play Julian Edelman at QB and spend an entire game calling weird shit.
Come on, man. You know he's DYING to put Edelman out there in a Wing T package. Belichick is like one of those chefs that starts a gimmick restaurant with recipes based off a cookbook from 1587. Every offseason, he pores through the rule book and finds some obscure statute that allows a wideout to throw TWO forward passes per play or whatever, and then he figures out a way to pull it off during a game. He's gonna run 15 quick kicks tonight and you'll be able to see the cum stain in his khakis from the stands.
Three Throwgasms
Skins at Giants: I can't tell you how overjoyed I am that Kirk Cousins sucks again, and that the Skins have devolved into a finger-pointing mess in just two scant weeks. It's wonderful. I really thought we were in danger of them being stable and competent there for a second. Boy, am I glad I was wrong!