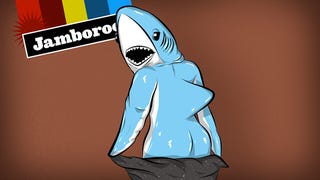 Drew Magary's Thursday Afternoon NFL Dick Joke Jamboroo runs every Thursday during the NFL season. Email Drew here.
We'll start with the shark because somehow, out of all the crazy shit that happened during the Super Bowl, it was the shark that ended up being plucked for maximum virality, as demonstrated here…
And here…
And I think that's about all you need to see in terms of manufactured internet content inspired by half a second of backup dancing. My boss Tim Marchman speculated that the Left Shark guy who danced poorly was instructed to dance poorly, so that people would notice and the moment would be captured for viral posterity. "Probably some Shingy-type figured that a cute, harmless botch would go big on social media," he said. Our EIC is a shark truther, and I am now a shark truther as well, because we live in a media age where everything—particularly any live event like the Super Bowl—is produced with the explicit goal of being passed around. The shark's got a fucking lawyer, man.
Here is short list of some of the viral content this Super Bowl produced:
Left Shark
The Gronk Bus
Kim and Kanye and John Legend and Chrissy Teigen eating together at Waffle House
Jimmy Fallon singing "We Are The Champions" with a bunch of celebrities
Doug Baldwin's poopdown
The Nationwide dead-kid ad
Jamie Casino's latest deliberately stupid ad
Rihanna getting her picture taken with this dude:
Back when I worked in advertising, we worked a lot on guerilla marketing (a term that is precisely as inappropriate as you would expect a marketing term to be). Guerilla marketing was basically any kind of advertising that wasn't broadcast over standard media like television, newspapers, web banner ads, and so on. For example, here's an anti-tobacco stunt where they put a bunch of bodybags outside of a tobacco company building:
And here is a fully functioning Mini Cooper ride that Mini's ad agency built for passersby to stick quarters in. And here is Burger King's old Subservient Chicken website, which still exists, only you can't boss the chicken around anymore. In every instance of guerilla marketing, there was a common goal: to invest a small amount of money in a stunt, which hopefully garners enough attention to produce millions of dollars worth of free coverage. That strategy is now the fundamental cornerstone of pretty much everything. You can see it across all advertising platforms, and as a staple of late night comedy, and you can even see it when Dan Harmon structures an entire season of Community around an elaborate Beetlejuice gif.
It's not that wanting to be noticed is a bad thing. I like it when people make movies people want to watch and write things people want to read. That's fine by me and always will be. But I don't want everything I fucking see to be a stream of deliberately random shit pre-programmed to go viral. The whole of something is almost beside the point now. It's more important that an ad or a sporting event or an award show have some tiny particle of it that will garner the proper amount of attention, good or bad. Anything created on one platform (God, I hate that word) must have something in it that can thrive on other platforms. The dancing shark itself in an inert thing, but now it has an industry of bullshit built on top of it. I can't trust the dancing shark to just be a dancing shark. There is now the lingering possibility that the shark was planted there as a viral agent for SeaWorld or something.