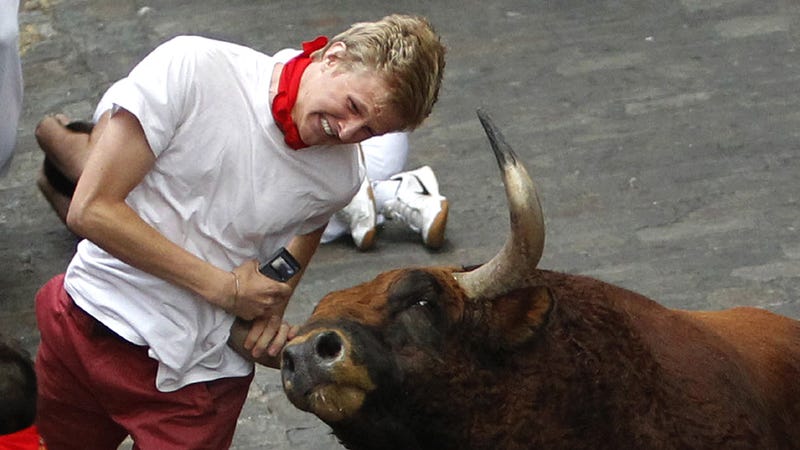 A mere 23 people were injured during the most recent running of the bulls, which somehow is still a thing people do. The Associated Press has a gruesome rundown of the misfortunes that befell these silly twats, many of whom collided and bottlenecked at the entrance to the bull ring. Bulls then trampled, hurdled and gored. All of this happened Saturday even after everyone got a load of the Wes Craven scene Reuters captured on Friday, when a bull appeared to hoist an upside-down man by injecting a horn into his upper thigh. The man above got this cotton swab to the kidneys on Saturday morning. Seriously, there's another day of this shit coming tomorrow, too.
The Associated Press assembled a roster of the fallen just today. One person was gored in the armpit and another gored in the ass, a 19-year-old Spaniard had his thorax crushed, an Irish man suffered asphyxia when his chest was crushed, and someone had a heart attack while watching the stampede. A Spanish TV commentator described the horror show at the bull ring entrance as "Dantesque." This was all on just one of eight morning runs during the San Fermin Festival in Pamplona.
I get why people continue to volunteer to run through this meat grinder. Twenty-three people hurt? Yeah, well, hundreds not hurt. A photo caption the AP moved explained the phenomenon thus: "Revelers from around the world arrive to Pamplona every year to take part in some of the eight days of the running of the bulls glorified by Ernest Hemingway's 1926 novel The Sun Also Rises."