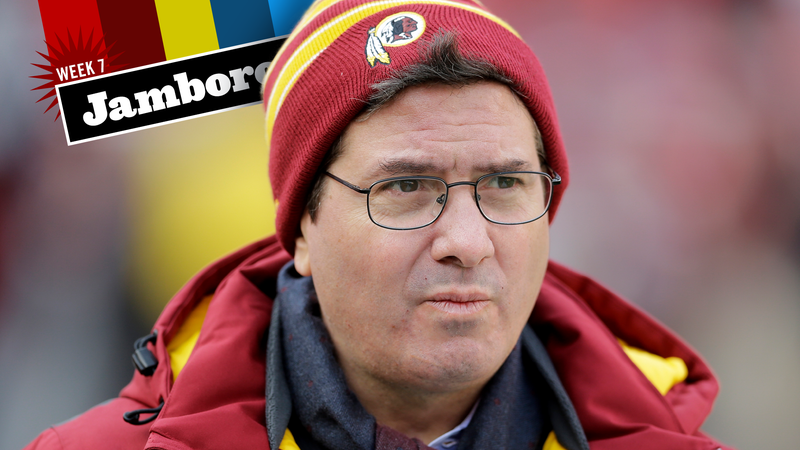 Drew Magary's Thursday Afternoon NFL Dick Joke Jamboroo runs every Thursday during the NFL season. Email Drew here.
Kirk Cousins is starting against Tampa Bay on Sunday and, if he continues being Kirk Cousins, he will likely end up throwing two picks and then finally be benched by head coach and wind analyst Jay Gruden. And when that happens, Gruden's career in Washington will be all but over. For any head coach, your career is over the second you agree to take Dan Snyder's money. But even following in the footsteps of comical failures like Steve Spurrier and Jim Zorn and the Shanahii, Gruden stands out as a particularly amusing test dummy because…
He was hired specifically to revive Robert Griffin III's career.

He turned on RG3 almost immediately and openly murdered him in a postgame presser after losing to these same Bucs.

He all but telegraphed to the front office that he didn't want Griffin on the team anymore, but the front office tried to make the marriage work for another year anyway, forcing Gruden to start RG3 in the preseason, during which Gruden left RG3 in games too long with a shit O-line and watched him get concussed.

He finally got management to agree to stick with his boy Cousins for a full season…

Only now we know that Cousins is shitty and Gruden's "offense" doesn't seem to be much of an offense at all.

And now Gruden may have no choice but to put a spent Griffin back into the lineup anyway.

This is all highly amusing to an outside observer such as myself (watching the Skins fuck up is now, in fact, my core reason for living), but this entire RG3/Cousins affair is indicative of the shady forces that are constantly at play with the Skins. ESPN's Bomani Jones got the Dead Tree Crew all pissy on Twitter over the past few weeks because he hinted that Cousins might have gotten a longer leash from fans AND Gruden because he's a white dude. That prompted local radio host and human mountain Thom Loverro to put Jones on blast:
I'm just incensed at this notion that the D.C. media is somehow racially biased in their coverage of the quarterbacks of the Washington Redskins. I mean, this is such pathetic, despicable, disgusting hate-mongering poison that's put out there by people.
Loverro's radio station is owned by Dan Snyder, who has long since perfected the art of treating criticism as a form of persecution. Snyder's ability to exhibit outraged defensiveness anytime he does something assholish (daily, essentially) trickles down through his organization and to his various media outlets. Kirk Cousins is a shitty quarterback. RG3 is ALSO a shitty quarterback. But in Washington, RG3's shittiness and his vacant personality are considered MORE toxic than Cousins' run-of-the-mill turnovers and inaccuracy. Just after Loverro shook his cane at Jones, co-host and water-carrier Kevin Sheehan said this:
"it's become clear that Cousins functions at a much higher level in this offense than Robert Griffin III does"
He does? He turns the fucking ball over all the time! And what offense are we talking about? Why is it so important to have someone who knows such a breathtakingly boring and shitty offense? Congratulations, Kirk Cousins. You know when to throw a bubble screen five yards behind the line of scrimmage. Whoop dee fucking doo.
More from Sheehan:
Now, as to the reasons why Cousins is — yes, is — being treated differently by everyone in this town and it's not football related, let's just go to the personal feelings that people have about Griffin and Cousins. Cousins hasn't made any of the following comments to my knowledge, comments like 'I know I'm the best quarterback on this team,' 'I feel like I'm the best quarterback in the league.'
This is what Jones was talking about! This was EXACTLY his point. RG3 is a dipshit and a brandroid, but then people take a lousy QB like Cousins and say, "Well at least he's not a GLORY BOY like our other bad QB!" And when that happens, you can easily have race as part of the logic there without it being ALL of the logic. Sheehan is still SELLING Cousins, and that sales job is the core of why the Skins are so fucked up.
For any NFL franchise, players and coaches and even executives are PRODUCT, and the Skins know this perhaps better than any other team. They have been laughably bad for the entirety of this century, and they continue tarping over portions of their stadium because everyone hates watching games there. And yet, they remain one of the most valuable franchises in sports, and that is because they know how to crassly exploit the sizable, eternal bedrock of fans who are dying for ANY sign that they will stop tripping over their own dicks. And since they own a lot of local media outright, they can package and sell new QBs and coaches with whatever pandering strategy they deem appropriate at the moment for their audience.