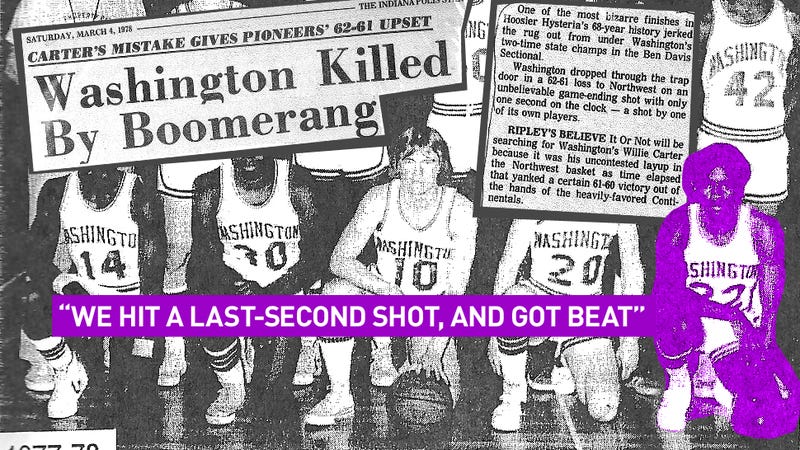 It was March 3, 1978, the sectional semifinals of the Indiana high school basketball tournament, in the teeth of what they call Hoosier Hysteria. George Washington was playing Northwest, a team it had already beaten twice that season. Washington was up, 61-60, and had the ball. A second remained. David Donald, a senior co-captain on the team, was inbounding from under the Northwest basket. The gym was erupting all around him—"crazy," as Donald would later describe it. "It was so loud."
The game was essentially over. Didn't one of the referees say as much to Donald just before handing him the ball? Donald held it in one hand and smacked it with the other, signaling for his teammates to move to their designated spots, which in this case meant two of them cleared out to the other end of the floor. Leonard Sullivan, a teammate, stayed in the backcourt and stood near the foul line. Willie Carter, the Continentals' other senior co-captain, also stayed behind, positioning himself near the baseline to the right of the basket, just a few feet in front of Donald.
Donald flipped the ball to Carter. In an instant, the game would be over. Only it didn't end the easy way, the way every person who was in that little gym that night thought it would. In that final second, Washington somehow lost the game without any of Northwest's players touching the ball. Carter was about to become the wrong kind of folk hero.
***
Last month, poor Trey Johnson, a high schooler in Oklahoma, scored a buzzer-beater on the wrong basket, handing an unlikely state playoff victory to an opponent. Johnson caught an inbounds pass near halfcourt, somehow forgot that all he had to do was run out the clock, and dribbled the wrong way before laying the ball in.