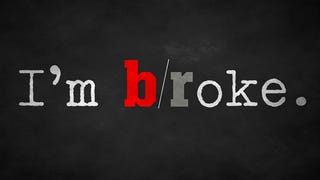 A month before I turned 21, I returned home from the Bay Area, where I was attending college, to celebrate Thanksgiving with my family in Minnesota. On a Tuesday evening, I was sitting in the living room, about to head upstairs to go to bed, when my phone buzzed with a text from Dave Finocchio, founder and general manager of Bleacher Report.
"Take your panties off, NOW!" it read.
Another followed shortly after: "BITCH!"
Another: "Respond…asshole!"
I assumed Finocchio was drunk. Maybe he was at a bar texting some girl; maybe he was in Chicago, where his girlfriend lived; maybe they'd just started drinking early at Bleacher Report. I didn't respond, and was in bed, about to fall asleep, when I got another one: "Black hole sun equals YOUR FUTURE!"
Now sure he was drunk, I told him that he might be texting the wrong number. His response: "Tom, I see handcuffs and latex in your immediate future."
Then it hit me: He was referring to my 21st birthday.
---
My conversations with Dave Finocchio didn't typically go this way. While I'd kept in touch with other people I worked with during my internship in Bleacher Report's San Francisco offices, which took place during the summer between my sophomore and junior years in college, I hadn't spoken to him at all since I returned to school in the fall.
The only lengthy conversation I'd ever had with him came at the end of my internship. I was receiving five credits for interning at Bleacher Report, and as part of the course my instructor asked me to interview a company higher-up, transcribe it, and then write a reflection on it. I was 20 years old, had just finished up my sophomore year at Santa Clara University, and was looking to break into sports media. Finocchio seemed like a natural choice.
We sat in a conference room overlooking the intersection of 2nd and Mission Street, in Bleacher Report's original office. At the time—this was in 2010—Finocchio was building a business around a simple idea: Writers who just a few years before would have had no way to share their takes on their favorite sports teams were creating blogs of their own and providing better localized content than outlets like ESPN, Yahoo and Sports Illustrated. Bleacher Report, using some clever technology, would build something new that could combine the individual's obsessive fixations with a national platform.
I loved it. I was a Minnesota sports nut going to school in Northern California, looking for good commentary on my favorite teams—the Vikings, Twins, Wild, and Timberwolves—and having trouble finding it. The Minneapolis Star-Tribune and St. Paul Pioneer Press had strong beat writers, but offered no commentary from people my age. The internet offered more than anyone could read, but many of the blogs were not credible, or overly critical of the teams I liked; on top of that, they were small and difficult to find.
Not only was Bleacher Report a one-stop shop for commentary on my favorite teams, but it also offered an opportunity for me to join the conversation and provide localized content for readers with interests similar to mine.
At the time of the interview, the company was not profitable, but Finocchio had a vision.
Bleacher Report content ca. March 2011.
---
"I see the company getting really, really big and becoming one of the biggest sports sites in the United States, if not the world, at some point," he said. "Advertisers will want to be on Bleacher Report because it is and will only continue to be … one of the best destinations to have your brand on the web, especially if you're looking to hit the 18-to-34 sports demographic."
I wanted to be a part of this. I saw my relationship with Bleacher Report as mutually beneficial: As I developed as a writer, I would become a credible media personality making a living by reaching the niche audience of sports fans in the Twin Cities area. In turn, I would generate viewership for the site and be someone it could claim as its own. As the site grew, so would the platform I was writing on and the influence I would have as a content provider, which would help the site grow, and so on, in a virtuous cycle.
"I would love to be known as a place where a lot of the brightest and best sportswriters got their start," Finocchio told me. "Where they learned how to specifically hone their voice and to create content on the web [and] learn how to market their content so they can become valuable to large media properties."
Finocchio compared sportswriting to the music industry. When distribution was tightly controlled, it was hard for artists to get their music out to the masses, and only a relative few ever became stars, but the machinery was in place to create icons like the Beatles and Michael Jackson. Technology inverted this model. YouTube and social media made it immeasurably easier for a given act to reach the public, and unthinkable that any one of them would become a star as big as Elvis Presley.
He saw the same trends working in sports. At one time, distribution was tightly controlled, and a sports fan could only go to the local paper or a national outlet to read about their favorite team. With independent blogs, and especially with sites like Bleacher Report and SB Nation offering a way to not just read but also produce content, though, the model was changing.
"Content is becoming, to some extent, more nameless and faceless in the sense that people are interested in reading good content, and they're caring less and less about where that content comes from," he said. "I think we'll see that trend continue."
It's been over three years since that interview, and Bleacher Report is now the third-largest sports site in the United States, bigger than Sports Illustrated and SB Nation put together. In August 2012, Finocchio and Co. sold B/R to Turner Networks for a reported $175 million. CNN, a Turner property, replaced Sports Illustrated with B/R as its sports content provider.
Finocchio has been an incredible success. He's a young millionaire and a vice president of Turner Sports.
In my three years at Bleacher Report, I covered the San Jose Sharks while studying in the Bay Area, and the Twins, Wild, Timberwolves, and Vikings upon returning home to Minnesota. I wrote over 500 articles, generated nearly three million page views, and received $200 for my services.
---
I first met Finocchio in May 2010, when a local broadcaster saw my first article for the Santa Clara University student newspaper and recommended that I reach out to Bleacher Report.
Finocchio and I met at a coffee shop in downtown San Francisco. He was joined by Rory Brown, who came on at Bleacher Report as an assignment editor in 2008 and is now the director of content operations. (On his LinkedIn profile, he lists himself full time employee No. 12 at Bleacher Report.) It was a straightforward interview: They asked me why I wanted the job, when I got into sports, and which sports I liked, and quizzed me a bit. The NHL regular season was almost over, so they asked me to predict which team would win the Stanley Cup and why. I correctly chose the Chicago Blackhawks.
After the interview, they told me they were interested in offering me a summer internship. I would be joining the newsletter team, headed by Bennett Spector. Spector is a University of Colorado graduate who had experience at the Colorado Daily and the San Mateo Daily Journal before joining Bleacher Report in 2009. His official title is director of emerging media.
Spector began by showing me what the newsletters were supposed to look like and how to use Bronto, a service that distributes the newsletters via email to subscribers, to find out which articles got clicked on after distributing them. He gave me a few test assignments as well. I would make a Pittsburgh Penguins or Kansas City Royals newsletter, and he would then critique me on which sources I should have used, whether I'd missed a story, and which links should have been higher or lower in the newsletter.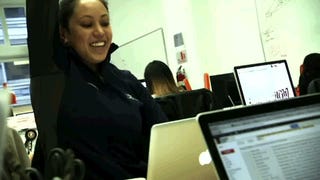 An enthusiastic Bleacher Report content provider pumps her fist, via B/R video "The Editorial Process."
---
He laid down the ground rules: Newsletters had to contain articles from reliable sources that were no more than two days old. I was shown how to write titles so they fit on tablet screens, and which Bleacher Report articles should be included. Finally, the most popular topics should be placed highest so they appear in the title of the email.
My first full day at Bleacher Report was strange. Because Santa Clara has a quarter system, I began in June and was the only intern starting on that day. Spector sat me down in front of two giant computer screens and sent me on my way. Nobody really said much that day, and I went home wondering if this was what it would be like all summer long.
After a few weeks, I settled and eventually had a routine down. In the morning I did newsletters for each NHL team and 15 MLB teams until lunchtime. In the afternoon I would write, either coming up with topics on my own or receiving assignments from the editors around me. At 4 I left the office, and walked back to the train station. I'd get home around 6:30.
The office was full of personality, and everyone became more talkative over time. I sat facing two individual rooms, one belonging to Bryan Goldberg, lately famous for coming off as rather doltish in the way he started up the women's interest site Bustle. Across from me sat Aron Glatzer, in charge of credentials. To my left sat Sean Swaby, who runs the Featured Columnist program. Finocchio, whom everyone called "Finko," was at the head of the table.