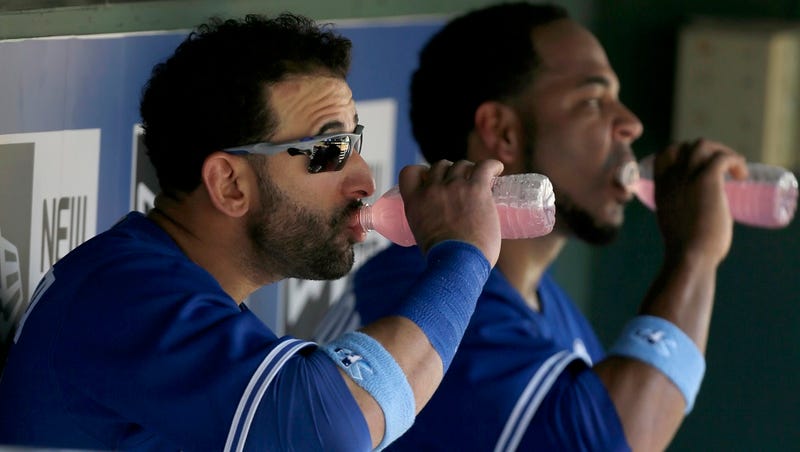 The Blue Jays were so far south of their preseason projections that even after a 10-game winning streak they're still the most disappointing team in baseball this season. But! After a wild 11-day charge, they've gone from 12 games back in the AL East to 6.5 back. They're now above .500 for the first time since last July. They're a hairsbreadth ahead of Tampa Bay in the standings and an arm's reach away from the Yankees. They still have a long way to go, but are no longer a garbage fire by the lake.
Here are the running theories as to why, or at least salient observations:
— Surprising pitchers. The ineffectual rotation has been shored up by some guys no one expected. R.A. Dickey and Josh Johnson have just treaded water this year; now it's Esmil Rogers and Chien-Ming Wang stepping up. (Note on cliches: "Stepping up" is a tough one to get rid of, right? It's a stand-in for "playing better than their previous performances or relative pay would have led us to predict." A guy doesn't have to all that great to be "stepping up," as long as he's surpassing expectations. Suggestions welcome.) Over at Sports on Earth, Jonathan Bernhardt has that story, after considering the Jays for far longer than I'm going to here. Suffice it that Rogers and Wang have combined for a 2.29 ERA in their six June starts, by Bernhardt's math. That's not a freak-show number but it's good enough to win games.
— Weak opponents. Actually I just assumed this because they swept the Colorado Rockies, who aren't the best. But the Rockies are a .500 team, the just-swept Rangers are 42-32, and Jays can complete the sweep against the 42-33 Orioles on Sunday. Toronto's actually beating solid teams. It's really strange. The Jays won exactly one series in April (against the Royals) and one in May (against the Rays). In June they've split or won every series they've played.
— Timely hits and/or swagger and/or catching breaks. Jose Bautista giving the ol' "keep talking" gesture to Orioles reliever Darren O'Day after he thumped a tiebreaking two-run homer in the eighth on Saturday epitomizes this. Fan favorite and brilliant postgame interviewee Munenori Kawasaki hit his first career home run in a one-run win Friday. The streak began when the Jays won in 10 against the White Sox; flickering bulbs at U.S. Cellular Field led to a delay that led, maybe, to the wild pitch that allowed the decisive run to score. So who knows. Hand of Zeus, etc.