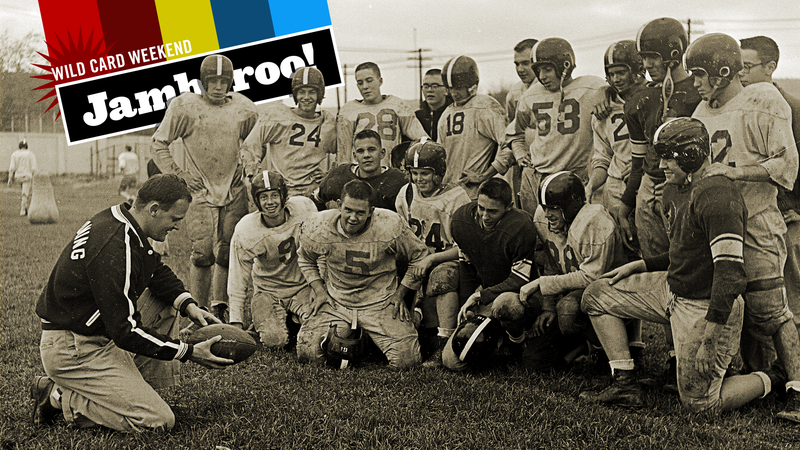 Drew Magary's Thursday Afternoon NFL Dick Joke Jamboroo runs every Thursday during the NFL season. Email Drew here. Buy his book here.

The games were the fun part. That's what we were told by our coaches over and over again. My coach was an affable man with a low rumble of a voice (super useful when you're the HC), and every Friday he would bring everyone in and give us our marching orders for gameday. He always told us we had gotten the hard part out of the way: the practices, the tedious unit meetings, the lifting, the offseason workouts. The game was our reward for enduring all of that horseshit. All of things were labored so hard over during practice should now, for three hours, just come naturally to us.
"So let's get out there and cut it loose," coach would say. "Let's cut the goddamn string and have fun out there."
Have fun. Cut string. Got it, Coach.
And then we would go out there and I would be a nervous fucking wreck. The games were exciting but they weren't always FUN, especially when we were losing, and especially if (when) I fucked up an assignment. The second we fell behind by a touchdown, the veil of fun would evaporate, and the game would be what it always is: life and death. That's the point of football. It's not fucking hula hoop. The excitement comes explicitly from the fact that men and boys treat it as deathly serious business. The fact that the sport CAN potentially kill you only emphasizes the un-funness of it all.
I know that there is a certain baseline joy that comes from participating in any sporting contest, especially a casual one. And I know that, for players who are GOOD, it really is fun to go out there and score three touchdowns a game. Maybe some of them really are genetically invulnerable to nerves. I bet that's awesome. I was not so lucky. Every game, I was Anthony Rizzo:
See now, there's a man who gets me. There's a man who clearly understands that these big games are fucking AGONY. You can prepare all you like, and you can know the ins and outs of every game plan, but you will still be caught in moments where you are terrifyingly uncertain of winning and want to barf. In general, pro athletes whip out their little black book of clichés any time they have to talk about pressure. They LOVE pressure. They eat it for a light snack. Give them the ball down six with 30 seconds left and they're in HEAVEN. Every goddamn Players' Tribune article is some variation of this. So it was nice to see Rizzo caught off guard for a moment, experiencing the exact same kind of emotional distress I'm sure I would feel if I were in that kind of sphincter-clenching situation.
But this doesn't stop coaches from trying to tell players at every level to have fun. It's a cheap way of denying away pressure that is, particularly during the playoffs, virtually unavoidable. Fun is actually a philosophy now, as evidenced by this Jonah Keri post from August, or by this trite soundbite from Pete Carroll, who apparently only takes 9/11 conspiracy theories seriously:
"If you're not enjoying this, you're missing it. It's great stuff, every part of it, every phase of it — the media part of it — all of it. It's all fun and it's really what we work for."
But of course, it's a lot easier to say you're gonna have fun out there than to actually have it. I understand fostering an enjoyable work environment so that everyone gets along. But when it comes time to actually bear down and play, telling athletes to "have fun" is about the most useless shit I've ever heard. Coaches spend all week yelling at you, and then game time comes and suddenly they turn into a bunch of yoga instructors. "Just relax! Breathe deep! ENJOY!"
No. No, I can't do that, man. I can't just turn off the electricity and assume the persona of Deion Sanders like it's nothing at all. Because the real fun isn't in the playing, it's in the WINNING. It's in going out there and busting ass for three nerve-wracking hours so that you can win and then go fly to Miami and hang on a fucking boat and get drunk and chase tail. THAT is the fun part. That's when you can cut loose, for real.