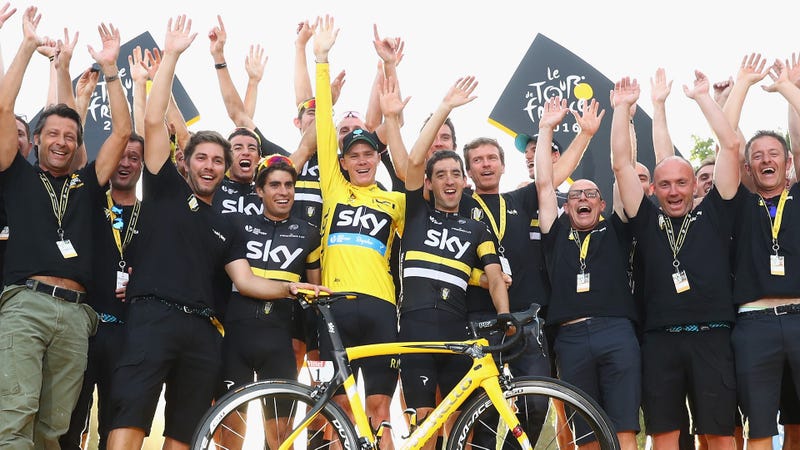 It's been 11 years since Lance Armstrong won his last Tour de France. In the intervening years, cycling has undergone a series of reforms aimed at making the sport, above all else, trustworthy. Lance Armstrong became one of the most hated athletes of all time not because he cheated, but because his pathological need to be believed led him to lie on national television, threaten the wives of his teammates, and make militantly haughty commercials for Nike. He was never sorry; his downfall didn't come down to his doping, it was because of the lying.

A decade removed from Armstrong's USPS teams throttling pelotons into submission, the cycling world has finally found a successor. British powerhouse Team Sky has only been around for seven years, and they've already won the Tour de France four times. Chris Froome is the most dominant Grand Tour rider since Armstrong. Their budget is at least twice that of most of their competitors. Thanks to the systemic cover-up perpetrated by USPS, every dominant cycling team from here to eternity will be plagued by doping questions, and part of what sets Team Sky apart is an apparently ironclad commitment to clean cycling.
Manager David Brailsford has hailed the value of "marginal gains" and the team has insisted that all riders sign a written pledge denying any past or present involvement with doping. Anyone who steps afoul of that rule gets booted off the team, like Jonathan Tiernan-Locke did in 2013 amid uncertainty about his biological passport (which is a tracking system that measures certain physiological values over time). As Brailsford himself said in 2011, "The whole point of our team is to try and demonstrate that it is possible to cycle clean and compete at the highest level."
The degree to which that is true is now under question. Russian hackers released WADA records showing a series of oddly timed therapeutic use exemptions (TUEs) that Sky obtained for Froome and 2012 Tour de France winner Bradley Wiggins. A TUE allows an athlete permission to take otherwise illegal drugs (in those case, corticosteroids) for legitimate medical reasons (pollen allergies for Wiggins, asthma for Froome).