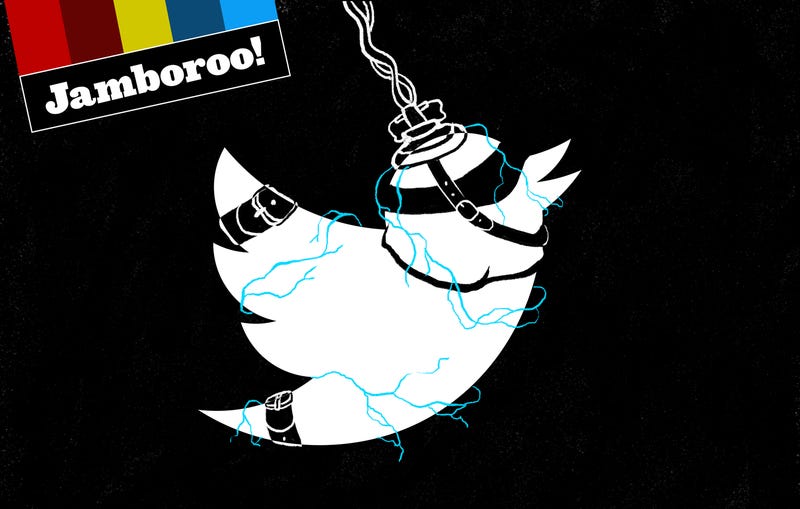 Drew Magary's Thursday Afternoon NFL Dick Joke Jamboroo runs every Thursday during the NFL season. Email Drew here. Buy his book here. 

This week the people running Twitter announced that they were cracking down on abusive tweets by hiding them before you see them, therefore eliminating the need to mute or block everyone who casually threatens to murder your family online. That sounds like a swell idea, right? Finally, an algorithm that detects Nazi frogs for you! It's like all my childhood dreams have finally come true.
Well, this being Twitter, the implementation of that idea has been a fucking mess, with mentions disappearing seemingly at random, based on unknown criteria. But since the company looks like it's actually doing something after a long stretch of having its thumb up its ass, Wall Street "rewarded" them with a mild stock bump. As of this writing, your Twitter stock is now worth a whopping $18, or roughly 1/46th of Google.
This little bright spot will do little to alleviate the enormous problems presently plaguing Twitter, namely A) The company makes no money and has no good plan to make it (last year Time reported that Twitter has lost over $2 billion since its inception), B) No one will buy it, and C) The company is unable to square the demands of the stock market, which wants it to recruit four billion new users a day, with the demands of its users, who would sensibly like Nazis, spammers, and predators banned for good. There's also the fact that the current leader of the free world uses Twitter to call out enemies, lie, complain about what's on TV, and issue vague threats that cause massive global turmoil on a daily basis.
This is probably not sustainable. At some point, Twitter is gonna have to die so that venture capitalists aren't foolishly parted with their money, and so that everyone else can finally breathe again. Relatively speaking, there are very few people out there who use Twitter regularly, but in 2017 the platform acts as a de facto test kitchen for the news, which means that even if you aren't on Twitter, its tentacles still find a way of wrapping around you and squeezing you to death. Do you know how many times I've watched a news anchor literally read a tweet that's right there on the fucking screen? I feel like I'm a four-year-old when they pull that. That's how a lot of news sausage is made right now, fake or otherwise, and it's already had an enormous, detrimental effect on informing the general population. What is said is news, rather than what is done.
As a result, there are plenty of people publicly quitting the service and/or performatively logging onto to Twitter just to smarm the universe with orders to "Never tweet." I swear I am not one of the latter. I tweet through it LIKE A REAL MAN. And the service retains many of the charms that made it so popular initially. Sports Twitter is still gold. Awards show Twitter still gives me an excuse to watch the Oscars and openly bitch about them. @ZODIAC_MF is our greatest living American. Oh, and there are the Young Pope jokes! Those are great.
The best that present-day Twitter can offer is to remind you of the service's initial potential, where assholes like me would start an account and be like, "This is fucking stupid," and, then a few days later, would be like, "MY GOD IT'S THE FUTURE!" Well, we are now living inside Twitter's future, and it's fucking terrible, and I'll go ahead right now and take responsibility for my part in its endless, trolling circle jerk. NUH UH TED CRUZ DIDN'T OWN US YOU'RE THE CORNCOB NOT ME.
So now Twitter needs to die. The only reason that Twitter still exists is because so much money has been sunk into it that investors refuse to accept defeat and walk away from the blackjack table. But it's time. It's time for whoever controls the grand money spigot to shut it off and force hopeless addicts like me off the grid, so that I'm not spending an hour a day on the shitter staring at my feed hoping to find something I know won't be there.
I have no illusions that the end of Twitter will solve much of anything, be it for the world at large or my own personal shortcomings. If it dies, people will just flee to Facebook (which is the worst), or Snapchat, or anywhere that is not Google Plus to have their little digital soapbox. You plug one hole in the dyke and seven more spring up. But at least the death of Twitter would force some kind of scattered digital migration, especially for self-branding media-types like me who can't help but build a worldview around it, and for dipshits who issue game theory tweetstorms on a daily basis. The great spell that Twitter casts over our national conversation would be broken, at least for a precious few moments.