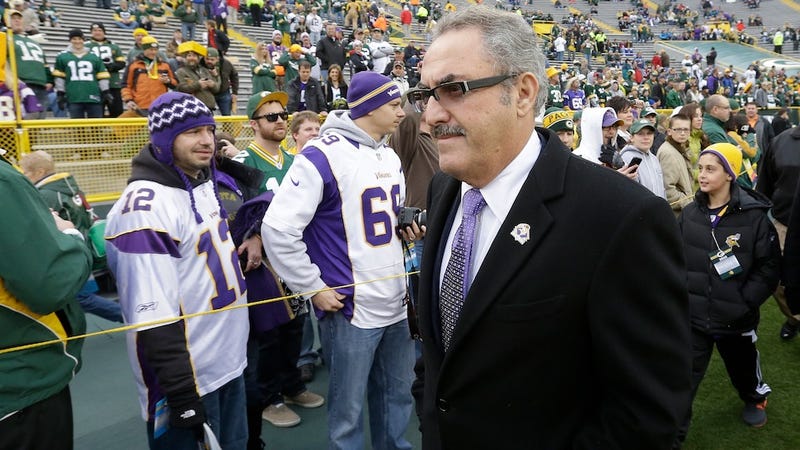 The owners of the Minnesota Vikings were ordered to pay nearly $85 million in damages to former business partners they defrauded with "evil motive", and will face a criminal investigation into their actions, which a judge declared violated racketeering laws. There's a chance this ruling could hold up plans for a new Vikings stadium.
Zygi Wilf, the majority owner of the team, and his brother Mark and cousin Leonard were found liable for fraud, breach of contract, and breach of fiduciary duty, for their roles in scamming former partners out of the profits of a New Jersey apartment complex. The Wilfs withheld revenues and charged unauthorized fees and interest payments for decades. "Organized crime-type activities," the judge called them, finding they violated the state's RICO act.
"Zygi and his father decided...that the Reichmanns had gotten too good a deal," Superior Court Judge Deanne Wilson declared. "And so they were just simply not going to honor it."
Yesterday, the judge ruled on damages. The Wilfs must pay a whopping $84.5 million, including $36.8 million in punitive damages. Under New Jersey law, the case will now be sent to the county prosecutor and state attorney general for a criminal investigation.
Transcripts of the summary hearing and the judge's decision can be found below, though they're lengthy and just for the completists. Some highlights:
"It was done not with a reckless, but a willful disregard of the rights of the partners...And it was clearly not negligent. It was not even grossly negligent. It was grossly willful. And it was done repeatedly."
"The bad faith and evil motive were demonstrated in the testimony of Zygi Wilf himself."
"I do not believe I have seen one single financial statement that is true and accurate."
A new Vikings stadium is tentatively scheduled to open for the 2016 season, with construction beginning in November. But when the verdict came down in August, a week before the lease was to be signed, the Minnesota Sports Facilities Authority put the deal on hold while it investigated the Wilf's finances. "It undermines my confidence and veracity of the agreement we worked out with them," Governor Mark Dayton said.