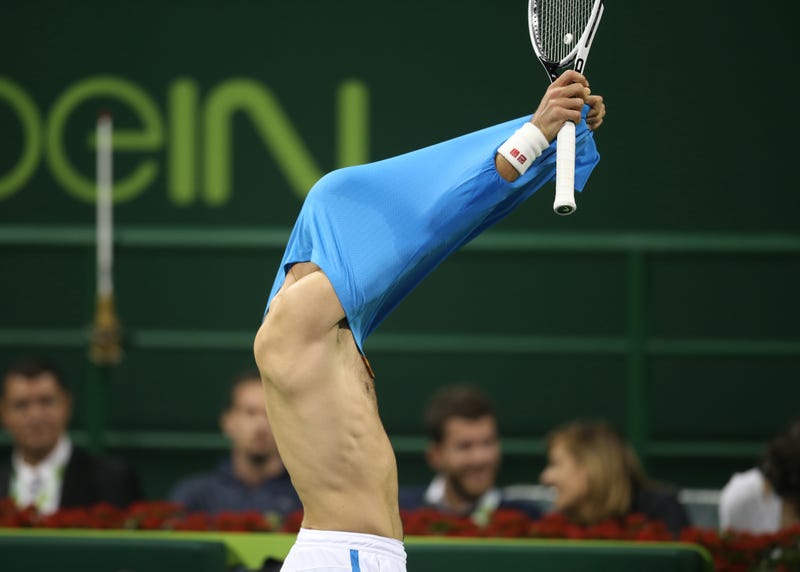 In today's Beyond the Baseline podcast, tennis legend Martina Navratilova talks to SI's Jon Wertheim about an issue that'd been haunting me lately: is Novak Djokovic looking a bit skeletal? He's still winning, sure; last week in Doha he wrung the title away from Andy Murray in a gutsy three-set final, avenging his loss at the ATP Finals. But also, his fucking ribs are starting to show.
Navratilova—a paragon of fitness who was still playing doubles in a Grand Slam a month shy of age 50—expressed concerns about Djoker's new physique. She worried that maintaining that low a body fat percentage could put him at risk in long, arduous matches: his body would too quickly exhaust its fat stores and then start burning muscle itself.

The Serb's always been wiry, and he overcame early-career conditioning and injury issues to become one of the fittest players in the history of the sport, frequently triumphing in sweat-slicked grindfests that exhaust even the viewer. (Over his career he's won 77 percent of his five-set matches, per Tennis Abstract.) While it feels banal to point out that an athlete relies on his physique for success, Djokovic's Gumby-like flexibility, particularly at the wrists and ankles, helps account for his defensive genius. Not only does he get near lots of balls thanks to his cardiovascular fitness, but he can also stretch out and take a decent crack at them thanks to his forgiving joints. Through these the last few years of dominance, Novak's body has been his chief weapon, and if there's a reductive explanation for his recent dip in performance, it's his mind, as he's previously discussed.