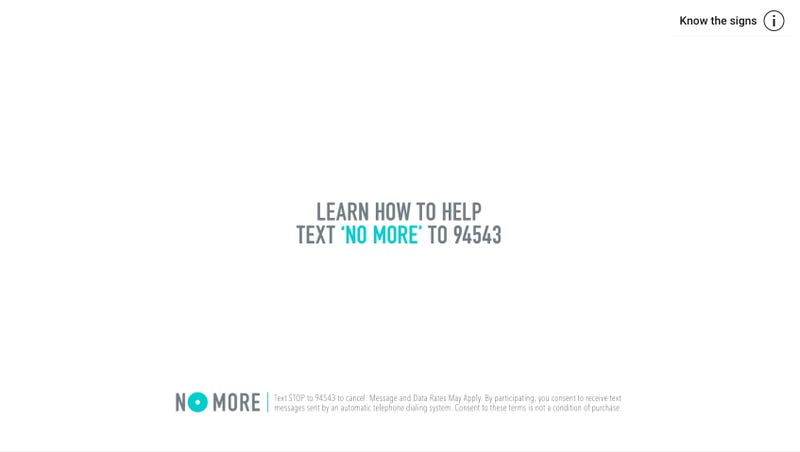 I took the No More pledge last year. What do I have to show for it? I'm now very aware of when #NOMOREexcuses Law & Order: Special Victims Unit marathons are about to air, but that's about it. I don't know much more about domestic violence or sexual assault. I haven't discovered new organizations working on policy or providing victims with services. I can't say I feel smarter, wiser, or even nominally better informed than a year ago, when I took the pledge (i.e., signed up for an email list) around the time of the first No More PSA during the Super Bowl. I did get a ton of promotions for No More week, which features SVU marathons, one more direct promotion to watch a separate SVU marathon in August, and requests for me to promote No More on my social media accounts. That's all.
No More already has my email address, and thousands more. Now they want our phone numbers, too. For a second Super Bowl in a row, the NFL is donating commercial airtime to a PSA for No More, a brand created by The Brands™ to help brands look like they care about domestic violence and sexual assault without actually doing anything. It was co-founded by one of the NFL's crisis-management consultants, Jane Randel, and embraced by the NFL soon after it brought her on to help make the NFL palatable again after video of Ray Rice cold-cocking his future wife became public.
Like any good brand creation, No More is excellent at doing very little while acting like it's changing the world. It doesn't accept donations from the general public (but does solicit corporate sponsorships); it doesn't provide services; it doesn't give out numbers of how much money it's helped raised for groups that do provide services. It "raises awareness," a conveniently obtuse goal. As I've written before, it's basically a sham.