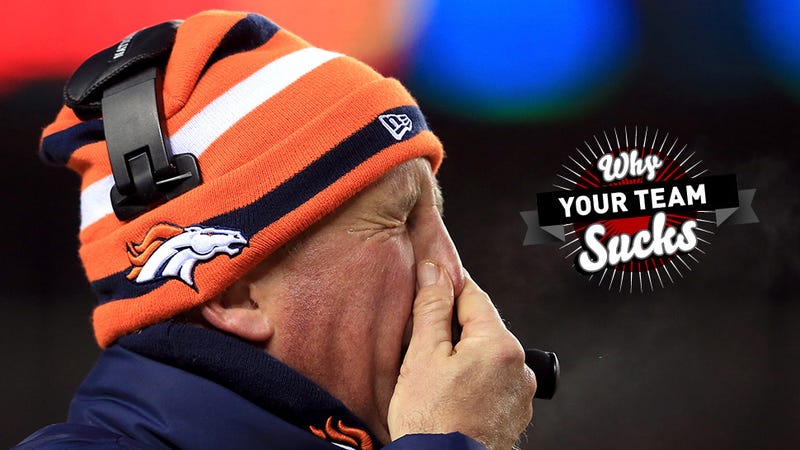 Some people are fans of the Denver Broncos. But many, many more people are NOT fans of the Denver Broncos. This 2013 Deadspin NFL team preview is for those in the latter group. Read all the 2013 NFL previews so far right here.
Your team: Denver Broncos
Your 2012 record: 13-3. One more time, for posterity:
"NOOOOOOOOOOOOOO!!!"
By the way, Rahim Moore is still in Denver. As a football player! They aren't making him work the merch stand or anything. They're actually letting him back onto the field after that happened. I know dabbing is legal in Colorado now, but Broncos fans aren't forgetting that shit so easily.
Your coach: John Fox. He played for overtime. I don't give a shit if he coaches thirty more years. He's the guy who played for overtime. You had 31 seconds, two timeouts, and one of the greatest QBs in history going your way, and you took a fucking knee? BULLSHIT. Once you cross the line into Denny Green territory, there's no going back. You get a permanent suck branded on you that never fades. The Broncos will crush this division, cruise into the playoffs, and promptly piss it all away because Fox will play Martyball at the worst possible time. 10 years from now, Fox will be coaching in Arizona, giving angry postgame tirades that get retrofitted into crappy beer commercials.
But hey, at least he doesn't drive while shitfaced.
Your quarterback: Peyton Manning. And wasn't it nice to see Peyton back in the playoffs and woefully underperforming again? I didn't realize how much I missed seeing him HERPADERP away a 1- or 2-seed until I got to watch him do it all over again. It never gets old, really. In a perfect world, the Bears win that Super Bowl (a game Peyton didn't play all that well in) and we all get to tease him eternally for never winning it all. God, that would have been sweet. Fucking Rex Grossman.
Peyton is 37 years old. Just to get to that interception against the Ravens, he had endure endless rehab sessions and cobble together a decent passing offense with virtually no arm strength. That double overtime loss represents the MOST an elderly Peyton is gonna get from his body. Even with Boston's beloved FOOTBALL PEDROIA around, Manning will be running on fumes. His head might roll clean off his shoulders by midseason.
Your one fantasy player everyone will hate: Eric Decker. Demaryius Thomas and Wes Welker are both better than Decker. All that's left for Decker to do is bogart a handful of both men's touchdowns and underperform the second you plug him into the lineup. He'll have 150 yards receiving one week and you'll be like Oh okay, he's Peyton's go-to guy. And then it'll never happen again.
By the way, Montee Ball is here to be your stud rookie running back, and yet somehow I bet he loses carries to Ronnie Hillman, Lance Ball (so many Balls!), and fucking Knowshon. Peyton Manning doesn't want the defense thinking the BEST running back will get the carry. Better to trick them with an inside handoff to Ball No. 2.
Why your team sucks: Somehow, Von Miller's vague drug suspension has increased from four games to six, and I don't even know what drugs he's taken yet. If he got them from Tom Heckert, I bet they were quality. Anyway, the Broncos are now without their best two defenders since Miller will get suspended and since they lost Elvis Dumervil because no one in the front office is sober enough to know how to work a fucking fax machine.