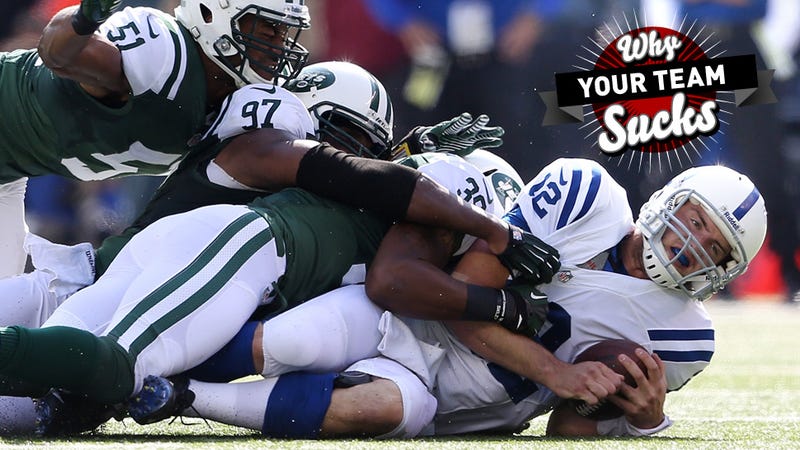 Some people are fans of the Indianapolis Colts. But many, many more people are NOT fans of the Indianapolis Colts. This 2013 Deadspin NFL team preview is for those in the latter group. Read all the 2013 NFL previews so far right here.
Your team: Indianapolis Colts
Your 2012 record: 11-5. This is the part where NERDY METRIC NERDS like me tell you that the Colts actually had a net point differential of minus-30 last season—a mediocre team that got some good bounces, in other words. It's just like the old saying goes: You are what your record says you are, unless you have a terrible net point differential, in which case you are what your net point differential says you really ought to be.
Your coach: Chuck Pagano, who will actually have to get out there and COACH this year. No more free rides for you, mister! You can't just go coasting along on #CHUCKSTRENGTH this time around. You get one uplifting cancer season and that's it. America won't tolerate a rerun. It's altogether possible that Chuck Pagano is a terrible head coach and you won't know it for certain until this season. And man, that'll be an awkward moment.
Your quarterback: Strong-armed Frankengoober Andrew Luck. Luck threw 18 interceptions last season (third in the league behind Drew Brees and [SPOILER ALERT] Tony Romo), completed less than 55 percent of his passes, and had a passer rating of 76.5. Oh but somehow, this glorified Jake Locker is the most promising quarterback out of the Gang of Four? RG3, Russell Wilson, and Colin Kaepernick all completed more than 60 percent of their passes last season, and all of them had a passer rating above 98. (NOTE: Passer rating is an arbitrary and useless stat UNLESS used for trolling purposes!) Of course, it's the WHITE quarterback who gets praised for being the most "pro-ready" and having extra clutchitude. THAT IS RAYYYYCESS! Did you know Andrew Luck REALLY wants to be an architect? This young man has a good head on his shoulders!
Your one fantasy player everyone will hate: Donald Brown. DAMMIT DONALD!
Donald Brown will probably go undrafted in your fantasy league. He's third on the depth chart behind future PUP listers Ahmad Bradshaw and Vick Ballard. But mark my words: One week, you'll be desperate for backs and you'll troll the free agent list and there Donald will be, sitting at the top, ready to suck. And somehow, every other option will be worse. It'll be between Donald Brown and the corpse of Craig Heyward. I should never be surprised when the free agent list is barren of good choices, but I always am. HOW COME DOUG MARTIN ISN'T AVAILABLE?!
Why your team sucks: No team is a more obvious choice to regress to the mean this season than the Colts, who overachieved in Luck's first year and still have the same problems they had a year ago: bad defense, a shitty line, a habit of turning the ball over, etc. You awful, galumphing Indy fans deserve nothing more than to watch your beloved-only-when-winning home team come crashing down to Earth. It's not quite right to say that Indiana is nothing more than Ohio's gunt; it's also Chicago's outhouse. It's a place where the Midwest's choicest townies and Klansmen gather to make babies out of wedlock, give handjobs to exhausted truckers, and root for white basketball players. Indiana is a tire fire that never goes out.
And the worst part is that Colts fans think they're CLASSY. These are the kind of people who will hold a rehearsal dinner at a T.G.I. Friday's. Thanks to Tony Dungy and Peyton Manning and Bill Polian, this is a fanbase that believes it roots for a team that has more character than your team. Look at this breathtaking load of shit:
"We were not in the Hernandez business," Polian said.
Oh, of course you weren't, Bill! You had far too much character to draft such a shady fellow to play for your franchise. This is the guy who drafted RAE FUCKING CARRUTH for Carolina back in 1997. What a sleaze. I bet Marvin Harrison has killed more people than Aaron Hernandez has.