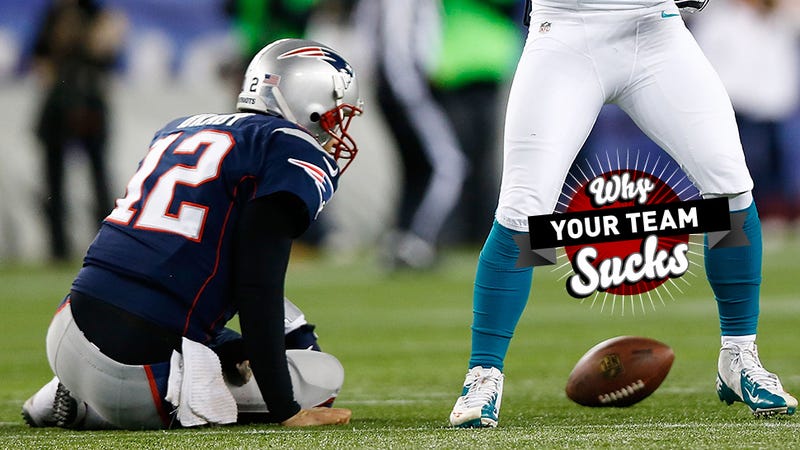 Some people are fans of the New England Patriots. But many, many more people are NOT fans of the New England Patriots. This 2013 Deadspin NFL team preview is for those in the latter group. Read all the 2013 NFL previews so far right here.
Your team: New England Patriots
Your 2012 record: 12-4, culminating in a thorough curb-stomping at home courtesy of Joe Flacco. When Joe Flacco is the best player on the field in your home stadium in the playoffs two years in a row, you are not poised for some magical return to dominance. Also, fuck you.
Your coach: MILF-hunting sociopath Bill Belichick, who makes draft choices like a music snob who intentionally chooses the most obscure bands possible for his year end top-10 list. I honestly think Belichick is bored with the idea of winning Super Bowls. I think he takes much more pleasure out of running a tight-end quick kick on third down and seeing if it works. It's like when you win a video game and you decide to go back searching for hidden levels, not actually giving a shit about winning the game itself again. Let's see if I can make a decent H-back out of a potential murderer! KEWL.
By the way, that big Rolling Stone exposé on Aaron Hernandez (more on him shortly) was co-written by loathsome Boston writer (NOTE: There is no other kind of Boston writer) Ron Borges. Borges is the plagiarist who once went on record saying he'd rather have Tony Dungy as Pats coach because Dungy was classier than Belichick. Anyway, in the midst of what is otherwise a purely investigative piece, Borges still saw fit to sneak in a #HOTSPORTSTAKE about Belichick:
Time was, the Pats were the Tiffany franchise, a team of such sterling moral repute that they cut a player right after they drafted him, having learned he had a history of assaulting women. But Belichick, the winner of three Super Bowl titles and grand wizard of the greatest show on turf, had decided long before he got to New England that such niceties were beneath him. Over a decade, he'd been aggregating power unto himself, becoming the Chief Decider on personnel matters. He signed so many players bearing red flags they could have marched in Moscow's May Day parade.
Look at the first two sentences again and tell me if they make a lick of sense. Time was, back before Belichick arrived and the Pats were a national laughingstock and Zeke Mowatt was grabbing ass in the locker room, they were the CROWN JEWEL of the NFL! Them's were the days! This is the Boston media in a nutshell. Whether it's accurate or not, they will seize any opportunity to bury current events in the asshole of this city's sporting past. LARRY LEGEND NEVER WOULD HAVE SHOT A GUY.
Your quarterback: Tom Brady. A new season means new hair! This season's hairstyle is ... (spins wheel) ... the Retired Marine! Sharp look. Tom Brady is a living mannequin.
By the way, this is arguably the worst offense Brady has had in his career with the Patriots. His best wideout is walking collarbone injury Danny Amendola. His second-best wideout is Kenbrell Thompkins (UNDRAFTED ZOMG SUCH HEART IF ONLY HE WERE WHITE). His third-best wideout is Troy Brown watching TV at home. Hernandez is gone. Rob Gronkowski has mushrooms growing inside his bone marrow. Just like 2006, Brady will be working with a pile of shit for receiving options. And his recent playoff performances have been lackluster. I SENSE A BIT OF JIM CARREY SYNDROME SNEAKING IN HERE.