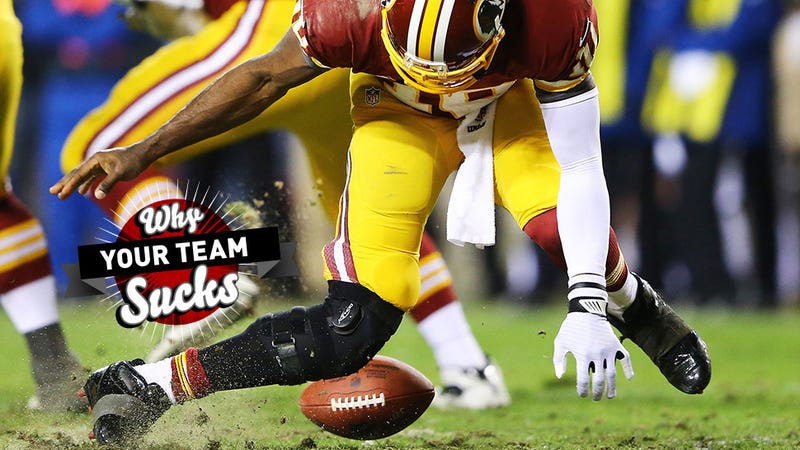 Some people are fans of the Washington Redskins. But many, many more people are NOT fans of the Washington Redskins. This 2013 Deadspin NFL team preview is for those in the latter group. Read all the 2013 NFL previews so far right here.
Your team: Washington Redskins. I know many sites have decided to not use the term "Redskins," but I feel like they're doing the Redskins a favor that way. If anything, people in the media should refer to the Skins with an even MORE offensive nickname, to really emphasize how stupid it is to use the name REDSKINS in 2013. Here are some options I'm toying with.
Savages
Savage Beasts
Savage Beasts Who Must Be Brought To Heel By The White Man
Dirt Worshippers
Buffalo Jockeys
Pipe-Smokin' Alkies
Card Shufflers
Cowboy Killers
Featherheads
Maizemunchers
Torn ACLs
That feels more effective to me.
Your 2012 record: 10-6. And it's amazing how meaningless a 10-6 comeback season feels when it ends like this:
SNAP CRACKLE POP.
Your coach: Leatherfaced dictocrat Mike Shanahan. You need Mike Shanahan to schedule a practice? He will schedule the SHIT out of a practice. Need Mike Shanahan to get medical clearance for his visibly injured QB before sending him onto FedEx Field's hallowed mangrove swamp turf? That's where he falls a wee bit short.
Please note that the greater DC area has been arguing about how Shanahan handled the Seattle game now for eight straight months. This is why Congress hasn't gotten any laws passed.
Your quarterback: Robert Griffin III, who has all the athleticism of Cam Newton and none of the durability.
Only the Redskins could fuck this up. Only the Redskins could draft such a brilliant young talent, let him get slaughtered on a rec softball league-quality playing surface, and then spend the entire offseason passive aggressively sniping with both him and his doctor. RGIII is the most exciting player in football, yet he is exceptionally fragile, unsurprisingly pigheaded, and is flanked by WTA-quality stage parents. The Redskins—who suck at public relations more than any company has sucked at anything—have mishandled Griffin to the point where I'm now excited for him to finally lose it and tweet out FUCK SHANNY and then delete the tweet five seconds later.
Redskins fan worship RGIII the way a stalker worships a woman he's about to stab to death. They love him so much that they get SO VERY ANGRY when RGIII does something to disappoint them, like accepting gifts from fans on his wedding registry. WE LOVE YOU RGIII BUT NOW YOU MUST DIE FOR NOT BEING PERFECT. WE SHALL WEAR YOUR SKIN AT NIGHT. If I were RGIII, I would be terrified.
Your fantasy player everyone will hate: Alfred Morris, who was a reliable fantasy back every week last season. Mike Shanahan will never allow something like that to happen again. It's more goal line swing passes to Evan Royster for everyone!
Why your team sucks: People who defend the Redskins' decision to keep their name like to cite polls that overwhelmingly support the franchise's stance. They will tell you that, like steroids in baseball, this is purely a media-driven story and that the average person doesn't care about it. And they're correct. Most people don't care, possibly because most people are not Native Americans because we killed all the Native Americans. But I am in favor of continually harping on this team to change their name because the Redskins organization deserves to have PILES of shit thrown at them. Frankly, they could be named the Tigers and I'd still demand they change it just to be a dick to them.
They are the most tone-deaf franchise in the history of organized sport. To keep their lucrative, racist brand going, they trotted out an Indian chief (who wasn't even a chief and probably wasn't even an Indian) to "support" them as part of a series of team-issued press releases that read like a fucking missive from the North Korean government. "Everyone is happy with our name! WE ARE A PROUD PEOPLE. Dan Snyder has never killed anyone!" I'm surprised Dennis Rodman hasn't been invited into Snyder's luxury box.