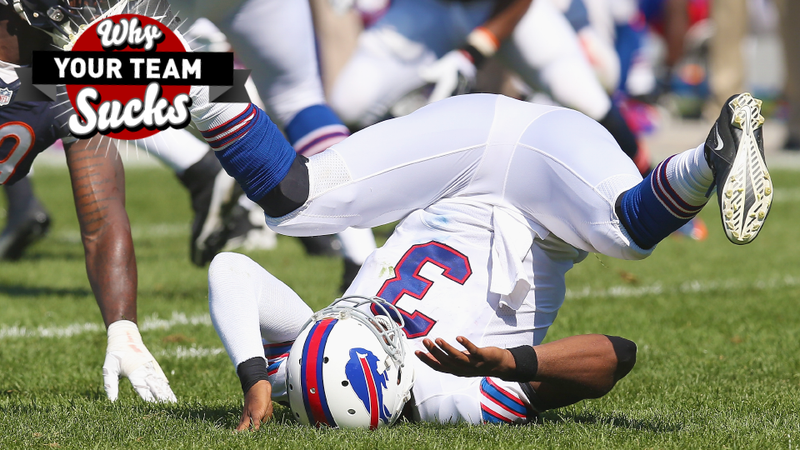 Some people are fans of the Buffalo Bills. But many, many more people are NOT fans of the Buffalo Bills. This 2015 Deadspin NFL team preview is for those in the latter group. Read all the previews so far here.
Your team: The Buffalo Bills
Your 2014 record: 9-7. REACH FOR GLORY!
As you recall, the most amusing thing about the Bills' 2014 season was when head coach Doug Marrone exploited a contract loophole that guaranteed him $4 million just to leave the team. And the best part is that Marrone overplayed his hand, took the money, and waited for another head coaching job to come rolling in, only to end up marooned in Jacksonville as a lowly assistant. This is how it works in Buffalo: everyone ends up embarrassed. Only Doug Marrone could find a way to make an extra $4 million and still end up looking like a fucking idiot.
Anyway, Marrone's desertion allowed the Bills to fulfill their destiny by hiring this man…
Your coach: HOW THE FUCK YOU DOIN', BOYS?!!!
"Listen men, I have one goal and one goal only, and that is to LEAD THE LEAGUE IN PUNCHING. No one is EVER out-punching us, you hear me? If they score, you punch them right in the dick. We will cockpunch our way to a fucking title! ARE YOU WITH ME?!"
Only in Buffalo. Only Buffalo could Rex Ryan be welcomed as a conquering hero after averaging six wins per season over the past three years. I love Rex Ryan as much as the next fan, but a retread is a retread. Rex joins the seemingly endless list of retread coaches employed by the Bills: Wade Phillips, Chan Gailey, Joe Don Baker, etc. He just happens to be more fun than the rest of them. But you're still only winning six games, man. Losing to New England doesn't feel any better just because you made Tom Brady's hand bleed.
Also: Rex STILL doesn't know shit about offense. It's 2015, and this man is openly talking about running the ball 50 times a game. WITH LESEAN MCCOY! Does Rex know that's not how you use LeSean McCoy? LeSean McCoy does his best work in space for a pass-first offense. The poor bastard is gonna get murdered by Week 3 all because Rex mistook him for Earl Campbell. Shit, McCoy is hurt already! Does Rex even know what the quarterback of a team does? You guys are gonna love Rex and HATE his coaching.
Your quarterback: Matt Cassel. Matt fucking Cassel. Matt Cassel. You traded for Matt Cassel. All that bold talk from Rex and look at your goddamn QB situation. You are going to miss Kyle Orton so, so badly…
That's about as good as it gets in Buffalo, kids. I picture the entire city fighting over a single old hamburger in an alleyway dumpster.
By the way, Matt Cassel is far from your only option at QB this season. EJ Manuel is still around. Let's see how EJ is progressing!
Sounds about right. Bills fans are already talking themselves into Tyrod Taylor. That's where we are, and it's only August. Jesus.
What's new that sucks: Percy Harvin! IK Enemkpali! Richie Incognito! Aaron Kromer! They're all here: hazers, punchers, convicts, rustlers, cut throats, murderers, bounty hunters, desperados, mugs, pugs, thugs, nitwits, halfwits, dimwits, vipers, snipers, con men, Indian agents, Mexican bandits, muggers, buggerers, bushwhackers, hornswogglers, horse thieves, bull dykes, train robbers, bank robbers, ass-kickers, shit-kickers AND METHODISTS!!!!!!! This year, you won't be able to tell the difference between the Bills fans punching each other in the parking lot and the Bills themselves. It's gonna be fantastic. If the Bills can't win, they may as well act like they're in the second-lamest production ever of Suicide Squad.
Offensively, McCoy is bound to score more often at his private orgies. Harvin hasn't been a dangerous receiving threat in over four years. The team drafted Karlos "Mystery Nut Surgery" Williams to fill the hole left by all of C.J. Spiller's injuries. New tight end Charles Clay will be picked up and dropped by your fantasy team 50 times over eight weeks. And in those rare moments when Buffalo QBs can accurately deliver the ball to Sammy Watkins, he will drop it.
Also: Kiko Alonso was traded away for McCoy. Do not blow anyone for his jersey if offered.