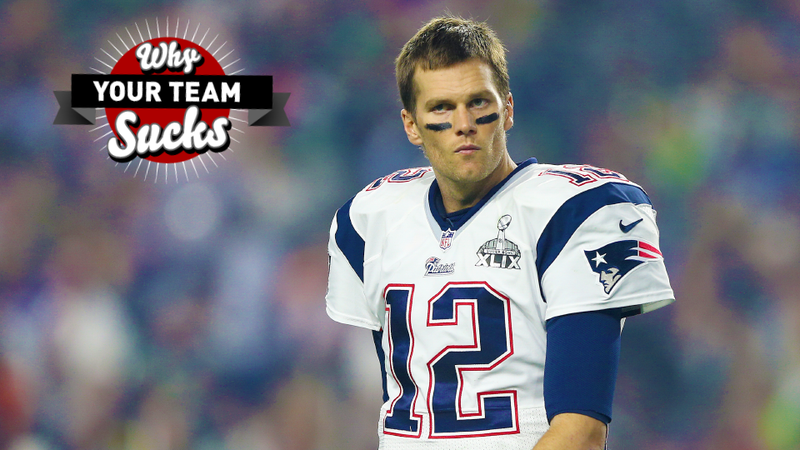 Some people are fans of the New England Patriots. But many, many more people are NOT fans of the New England Patriots. This 2015 Deadspin NFL team preview is for those in the latter group. Read all of the team previews here.
Your team: the New England Patriots. Well well well. Looks like we've finally reached the top of SUCK MOUNTAIN.
We're definitely ending on a low note here.
Your 2014 record: 12-4*. Super Bowl champions*. Saved at the last minute by future Raider Malcolm Butler.
Your coach: Bill Belichick, shown here eating your mom's brain matter to bring about sexual arousal:
With one more Super Bowl win*, Belichick will have more Super Bowl victories* than any other head coach, and will likely cement his legacy* as the greatest coach in NFL history*. Also, he adores long walks and standing next to lighthouses.
In case you were wondering, there is a child being murdered off camera. That's why he's looking away and smiling. No one, not even Nick Saban, looks more awkward being happy than this man. I'm creeped out just looking at him attempt to smile. I really am. It sends bad vibes all through my house. I remain firmly convinced that, despite the victory* over Seattle, Belichick's favorite moment from last season was spite-benching Jonas Gray, just to be a cock.
This Preppy Bill photo was taken from something called Improper Bostonian magazine, which actually exists. I hate its name with the gale force of a thousand seastorms. By the way, Belichick's girlfriend is on Instagram. Here's a photo of her boyfriend trying to pull her soul out of her body:
Jeez, get a room, you two. And then have that room bugged.
Your quarterback: Tom Brady. BALLS.
Brady (if that is his real name) is also seeking a fifth championship* to secure his legacy* as the greatest quarterback in NFL history*, even though he is probably just Chris Redman with a crib sheet. Now that his Ballghazi suspension has been overturned (appeal pending!), Brady has a chance to win his fourth Super Bowl MVP award* and his third League MVP award*. Pretty impressive*!
Also: If you are friends with Brady, he will gladly lend out his Super Bowl ring* to your nanny sidepiece. Too bad he destroyed that cell phone: we might have actually uncovered evidence of him being an interesting person. Let's check his emails!
Nope. The search goes on. MAKE THAT BALL A FUCKING BALLOON!
By the way, I don't buy any of you Boston fans sticking up for Brady after you were ready to run his ass out of town after the Chiefs loss last season. It's never enough for Boston fans to win. They must win ON BRAND. Look at this:
According to Alan Siegel, a sportswriter who did a tour at a suburban Boston paper, Deflategate reconnected Boston fans with the "old," lovable Brady. "He dated a supermodel," Siegel said. "Then he started getting statistically great. It was almost like Pats fans held that against him, that he became properly rated instead of underrated. 'He's Hollywood, not in touch with us anymore.' Now, the wagons are circling: He's our guy. The world is out to get him. It's perfect Boston paranoia."
I mean, really: these people belong at the bottom of a river.
What's new that sucks: Congratulations, Boston! You did it! No, I'm not talking about winning a fourth**** Super Bowl. I think we all know you won only because A) Pete Carroll is a moron, and B) You cheated like a bunch of sorry assholes, again, and are unfathomably lucky that the man tasked with holding you accountable for it also happened to be the single worst chief executive in the history of sports.
No, I'm congratulating you because, at long last, you and the NFL conspired to figure out a way for you sorry, miserable, LOATHESOME bags of shit to remain in the sports world spotlight in perpetuity. God forbid the rest of the universe spend ONE FUCKING SECOND not talking about your shitty teams. All those titles* are irrelevant now that you've secured the ultimate Boston nocturnal emission: a chance to wallow in your own self-victimization for time eternal. Great fucking job. You are now the worst, forever.
I thought that the St. Louis Cardinals might challenge you for suck supremacy, but no. That was naïve. You will never not be the ass end of sports fandom. If you think that Roger Goodell has somehow helped you become the good guys here, or sympathetic in any way, you are wrong. You have never been more wrong. In fact, you suck even harder if you believe I'm coming to your side. No one outside of Boston wants you to be absolved:
Secretly, I wish Goodell had gotten away with it and stripped your asshole team down to its raw bones. I wish he had nuked the joint. And I bet you do too, just so you could mewl about it over and over again.
On the field, this team lost Darrelle Revis, Brandon Browner, and Vince Wilfork to free agency. That kickass defense that finally ended poor little Tommy's 10-year title drought? POOF! It's gone. You're back to giving up 25 points a game and hoping Brady can make a championship* offense out of discarded fantasy scrap like Brandon Gibson, Fred Davis, and Scott Chandler. I'm hoping for a Reche Caldwell cameo somewhere down the line.
Also, your old tight end was convicted of murder. I blame you fans. You are the reason murder happens.
What has always sucked: You fucking dirty cheating lying scumbag racist asswipe fuckface toilet people. Forget the stupid ballboy sneaking footballs into the shitter just so Brady could have a saggy tit to throw around against the Colts. Now we know for certain that this whole fiasco went down because the rest of the NFL wanted this team punished for cheating in a THOUSAND different ways: spying, hacking, scuffing, pine tarring, stealing play sheets, cribbing notes, shredded evidence, embezzling, suspiciously preventing fumbles, racketeering, cooked books, cut brakes, arson, pipe bombs, booby traps, bear traps, trap doors, illegal formations, secret fuck dungeons, satellite reconnaissance, visitor's room glory hole cameras, x-ray playsheet analysis, Clomid planted in Robert Mathis's glove box, MURDER. Tell me a way in which the Patriots have engaged in deliberate subterfuge, and I will believe it.