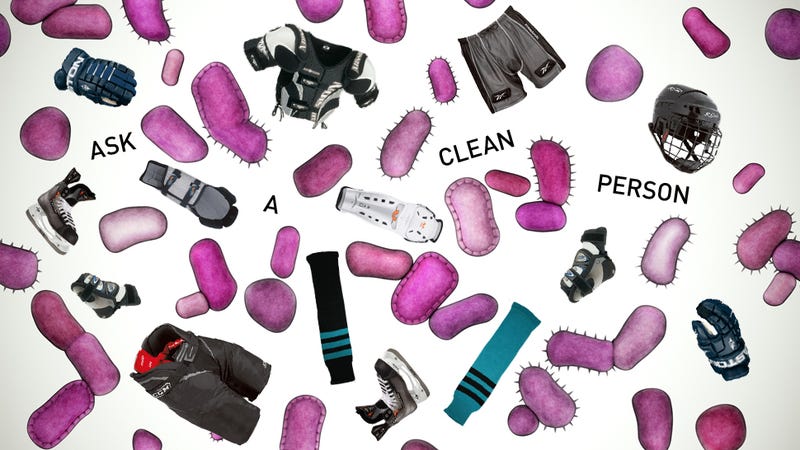 Jolie Kerr is a cleaning expert and advice columnist. She'll be here every other week helping to answer your filthiest questions. Are you dirty? Email her.
I play hockey and live in a somewhat small apartment, meaning I've got to sacrifice a closet to store my gear. Now, hockey equipment stinks. A lot. I can't really be trying to clean it every other week, since it takes such a long time to dry, so do you have tips on how do I keep my hockey gear from becoming an odour monster? I'm currently using a mix of rubbing alcohol (like ⅔) and water (like ⅓) in a spray bottle, and just spray that shit after a game.
It is absolutely not normal how excited I was to receive this question. I mean, it's not really normal how excited I am about this job, but by now you all have gotten more or less used to that.
Anyway! I was excited because hockey-equipment cleaning is a topic that I've been champing at the bit to take on, but the questions I get on the subject are generally delivered to me anecdotally, rather than as formal, emailed queries, and I am pretty sticklerishy about not making up questions just because I want to answer them. So I've been sitting and waiting and drumming my fingers on the bar where I do my best work, and then along came Sully with his rank hockey gear and, lo, the Clean Person was happy. (His name isn't really Sully, but I don't publish names along with your questions and Sully is my go-to Generic Sports Bro name because Boston.)
It's a great topic, hockey gear, because oh God for those of us who grew up playing hockey or were hockey-adjacent (I'm the latter) THAT SMELL is the stuff of legends.
I can picture those of you who actually play the game now, beating your chest and bellowing: "THAT SMELL is part of hockey! THAT SMELL makes me awesome! What kind of Ugg-wearing Tom Brady-wannabe dandy-boy washes his pads? WHO ARE YOU, WOMAN, AND WHY THE FUCK ARE YOU ON DEADSPIN??" (Your words, not mine.) So look, I absolutely get it; I grew up in a hockey culture and understand the importance of ritual and customs and smells. And I also understand that, for many of you, the argument that you shouldn't carry around your fetid gear while it's awaiting Superfund classification probably won't cut it.
Which is why I come bearing an even better reason for you to wash your pads. But first, we need to talk about the source of THAT SMELL.
You all are pretty smart fellers, so I won't spend too much time going over what you likely already know on your own: When you play, you perspire, and that sweat gets into your pads. Eh, OK. But then those sweat-soaked pads go into a hockey bag and the real fun gets going. Because once those pads are packed into that bag, all wet and sweaty and feeling sexy and mingling with one another, bacteria come out to party like drunken permatanned girls on the Jersey Shore in August. Because bacteria love the dark, and they love moisture, and they love heat. So when you take that bag, which is already dark, and also moist because of your sweaty pads, and you toss it in your car or bring it in the house, you introduce heat to the equation and BOOM! Happy, slutty bacteria wearing sky-high heels and Bump-Its get all grindin' up on your stuff.
Some of you are probably all: "Heh. Shows what she knows. I leave my gear bag in the garage. In Minnesota. In February."
The thing is about that bacteria—they aren't picky. That bacteria may want Pauly D. with all his dark, hot, moisture, but they'll settle for the cut-rate version (I've named him Sauly E.), even though he lacks heat.
The other thing about that bacteria is that you don't want that stuff coming into contact with any cuts, bruises, or abrasions. Because that's how you wind up with a staph infection.