Ten years. It's been 10 whole years since Lionel Andrés Messi, then just a 19-year-old kid, did this to Getafe:
(And yes, "did this to Getafe" is appropriate here. When you sprint through an entire team's half of the pitch, skip past five opposing players, and send the ball into the back of the net over the sliding body of a sixth, you can accurately be described as having done something to an entire team.)
The goal itself is a wonder, obviously. Like all the best individually iconic moments, it contains all (well, many) of the hallmarks of what makes Messi so effective, so dangerous, so good. If in 10 years a kid asks you "What was Messi like?" you'll probably spend a couple minutes trying to find words to describe his physical genius, his lightning-quick improvisational problem solving, his strikingly simple and totally unstoppable dribbling technique, his startling strength and balance, and his penchant for bad haircuts, and when you'd realize you hadn't at all come close to encapsulating what it was actually like to watch Messi work, the goal against Getafe will probably be the first clip you cue up to give the youngster a first-hand taste.
Messi scored this goal towards the end of the 2006-07 season, the one where he first became a full-time regular starter—at least when health allowed. (It's sort of funny to remember that Messi, now a veritable iron man who regularly plays a good 50+ matches every season, was once injury prone.) That year, Messi played in 26 La Liga games and scored 14 goals in them.
Now, as a recounting of an early season in the historic career of Lionel Messi, the above mentioned facts do not seem all that notable. But when taken outside of that context, they are fucking bonkers. This was a teenaged winger who became a starter for one of the biggest and best clubs in the world, who scored more than a goal every other match. A young player so conspicuously amazing at age 19-20 that he finished third in the voting for the 2007 Ballon d'Or. To be so young and already so great is absolutely absurd.
G/O Media may get a commission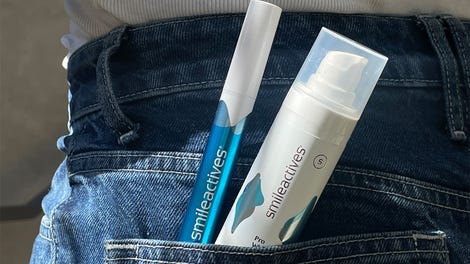 58% off
Whitening Powerhouse Pen & Gel Duo
As a comparison, soccer fans have rightfully drooled over the arrivals of young studs like Kylien Mbappé, Ousmane Dembélé, Marcus Rashford, and Christian Pulisic. The things Messi was doing at around that same age—like starting for Barcelona, ruining Getafe, and scoring a hat trick against Real Madrid—make the hype surrounding subsequent teen phenoms seem quaint. Rashford and Pulisic aren't even sure starters. Dembélé is already very good but not incredibly so. And Mbappé, playing in a worse league as a center forward, is scoring at a slightly lower rate than Messi did then as a goddamn winger. From the beginning, Messi was simply on another level.
And that's the other thing about Messi's Getafe goal. It is essentially a step-for-step remake of Diego Maradona's famous Goal of the Century:
In the same way that every small, tricky-dribbling young forward who likes to shoot gets labeled the "Next Messi," Messi as a young player was one of a long line of "Next Maradonas." To be dubbed the "Next [insert all-time great]" is flattering, to be sure, but it's also limiting, at times burdensome (especially if you're, say, a diminutive, left-footed, goal-minded Argentine who moved to Spain as a boy and thus are expected to fill the shoes of the soccer-obsessed country's favorite son so as to validate your patriotism, your very national identity), and, most importantly, wildly unrealistic. The whole reason you want to call someone the "Next Pelé" or whomever is because there can't be another Pelé; those kinds of players were so exceptional and unique and rare that there will only ever be one.
The best that young players can hope to be is the best version of themselves, players with their particular talents and predilections and styles who eventually become so great and famous and beloved that the next generation of similar-ish players are measured against the standard they've created.
Seen through that lens, Messi's goal against Getafe was a coming of age of sorts. The supposed reincarnation of Maradona had recreated Maradona's most famous goal, had done it as but a callow teen, and by doing so proved that he could not only live up to that inevitable, unfair comparison, but also transcend it, albeit in his own way. It was the moment when you could stop thinking about Messi primarily in terms of his hypothetical future—whether he would one day reach the imaginary ceiling his skills projected, whether he might eventually become the crown jewel around which the rest of the Barcelona team would be built, whether he could ever be as good as Maradona—and instead focus solely on enjoying the wonder that already was. It was the end of Messi as Maradona's potential heir and the beginning of the Messi as Messi. And what an era it has proven to be.