You're about to be in for a whole lot of family togetherness. Some of that togetherness will probably be spent around a TV, which is great, but you'll have a lot of different tastes to satisfy, which can be very bad. You want to avoid something too graphic (your mom's in the room) or too sexual (your grandma's in the room) or too controversial (your crabby uncle is in the room). You need something engrossing that unites, not divides. Fortunately, you've got options. These are all up in full on Netflix right now, save the last three.
1) Master of None. Aziz Ansari's original Netflix series about love and dating is both painfully funny and family-oriented: His real-life parents play his mom and dad. Your own parents will love that.
2) LOST. Yes, the ending is terrible, but you'll never get there in the time allotted, and nothing will beat that first season, so why not agonize over your cousins' terrible theories over some egg nog?
3) Parks & Recreation. Travel back to Pawnee with your friend Leslie Knope and the rest of the Parks Department for a show that is both pro-family and pro-mini-horse. The most crotchety member of your family will undoubtedly identify with Ron Swanson.
4) 30 Rock. Same deal, crotchety-wise, but this time with Jack Donaghy; you will probably relate most to Liz Lemon whether you're female or not. And either way, everyone loves Tracy Jordan/Morgan.
G/O Media may get a commission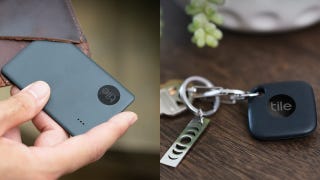 Up to 35% off
Tile Item Trackers
5) Parenthood. Now, this drama that follows the life of a large family in northern California is definitely sappy. But it's the good kind of sappy, and it covers so much ground—interracial relationships, autism, cancer, teenage drinking, aging parents—that it's liable to strike an emotional chord with everyone in your family eventually. I just blew through all five seasons myself.

6) Gilmore Girls. Another incredibly sappy and internet-beloved family show, once again starring Lauren Graham as an overcaffeinated cool mom raising her teenage daughter solo. Even your snarky cousins might get into the rapid-fire dialogue.
7) Mad Men. So prestigious! Plus, if your parents grew up in the '60s, they can compare and contrast with their own experiences. (Hopefully contrast.) A real 2015 story of togetherness. Come for the styling, stay for the thrill of watching so many sad, pretty people smoke indoors.
8) Unbreakable Kimmy Schmidt. This Tina Fey-produced original about a stunted twentysomething who just escaped from a cult (it's a comedy, seriously) is so funny and quick that you can blow through its first season in one day, which is something I can tell you from experience.
9) The Office. Office drudgery is another area that's unfortunately relatable for the whole family, and that's great, because all nine seasons of this beast are readily available. This show is the reason I can't think about New York-style pizza without remembering the episode where Michael Scott made a pilgrimage to a Times Square Sbarro.
10) Curb Your Enthusiasm. So these last three are on Amazon; I love this Larry David series not only because it's uncomfortably funny, but because you can watch the episodes out of order and it will still make sense. Plus there are eight seasons, so there's a lot to choose from.
11) Veep. I'll be damned if this HBO series isn't the funniest thing on TV right now. Starring Julia Louis-Dreyfus as the ever-inept vice president who continues to fail upward, I dare that given our current, idiot-filled political climate, this show is maybe too real.
12) Downton Abbey. What more can I say about this PBS drama about an aristocratic British family and their stuff household staff? Moms love this shit. And if you don't, it's a good series to get some sleep to.