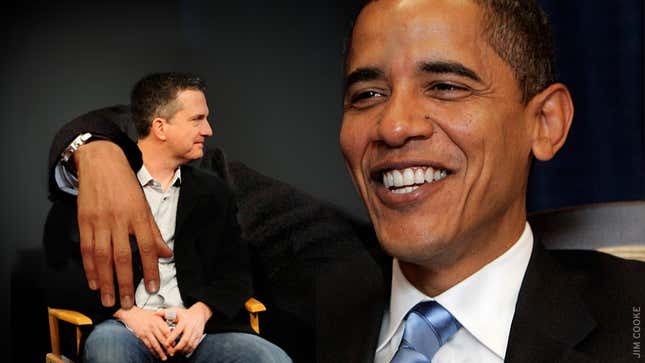 As you might have heard, Bill Simmons finally scored an interview with Barack Obama this week. Now, we at Deadspin are obviously part of the Giant Liberal Gay Media Deathship, but that doesn't mean we can't at least try to strive for balance on occasion. That's why, as a favor to all the remaining GOP candidates, we'd like to present the following list of talking points you can use to assault the president for his decision to confer with the Sports Fella:
The best sports movies according to Toheeb Jimoh
1. Simmons is a known fan of violent pornography.
I flew to San Fran to hang out with my buddies Bish, Mikey and Hopper (the heart of the original Vegas crew) for a few days. The weekend started off with Mikey showing us a then-legendary porn scene—one where Rocco Siffredi randomly decided to dunk a co-star's head into a toilet—which we analyzed like it was the Zapruder film for a good two to 10 hours. Then we flew to Vegas and gambled for three straight days, and every time someone got killed by a blackjack hand we made a variation of a joke about someone getting their head rammed in the toilet by Rocco. Vegas is the place where you beat the same joke into the ground, but this went to another level—flushing sounds, gurgling, "No, no Rocco, not again!" and everything else. It just never got old.
2. Simmons is a known member of the Hollywood establishment.
He belongs to the trendy Soho House in West Hollywood, and his circle of friends has widened to include celebrities like Jimmy Kimmel and Seth Meyers.
G/O Media may get a commission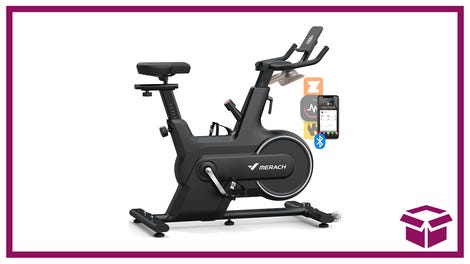 14% off + Coupon
Merach Indoor Cycling Bike
3. Simmons is an elitist literary snob.
I'd like to thank Random House for making sure my book is never available in any airport or train station bookstore. Always feels good.
4. Simmons is a MASSACHUSETTS LIBERAL (by way of Greenwich, Conn.)
5. Simmons is a known gambler.
Last summer, at my buddy Hopper's bachelor party, we played blackjack at Mandalay Bay until 8:45 a.m., one of those blurry marathons where you wake up the following afternoon, heave a sigh of relief when you see your wallet ("I didn't lose it!") then scream happily when you glimpse the wad of hundreds inside. Women had flirted with us, pit bosses had sauntered over to "cool" us down. We hadn't played for 25 G's a hand, but we had risked a higher percentage of our net worth than MJ did in his Mohegan cameo, that's for sure. It was my single best run in Vegas—and I didn't have Leahy standing nearby jotting down unflattering notes.
(Do not use this talking point if you are Bill Bennett.)
6. Simmons is a known race hustler.
Kudos to reader Ben Bernetson for mentioning Reggie Cleveland as the best possible example of my "you think a random baseball player is black and they turn out to be white, or vice versa" phenomenon (described in the last Ramblings, about Sidney Ponson and Marcus Giles). That e-mail prompted me to rename the list "The Reggie Cleveland Group." Some other examples sent in by readers: Ricky Proehl, Shavlik Randolph, Herbert Perry, Tony Massenburg, Trot Nixon, Brooks Robinson, Johnny Damon, Harmon Killebrew, Darin Erstad, Jarrod Washburn, and, of course, Troy O'Leary.
7. Simmons's father spent his entire career suckling at the government teat.
8. Simmons is sympathetic to organized labor interests.
9. Simmons was influenced by a radical liberal author.
10. In the interview, Obama admitted to not watching the news.
Well, first of all, I don't watch network news or cable news. So in the morning, when I'm working out with Michelle, it's on SportsCenter.
He doesn't even watch Al Jazeera!
Now if this were Sarah Palin responding to a question from Katie Couric? OMG IGNORANT DEVIL WOMAN.
11. Obama also advocated taking billionaires' money and redistributing it to millionaires, just like Lenin.
If you've got billionaires on one side and millionaires on another, you guys can figure out how to divide some money up.
12. Simmons hates women (though he will eschew birth control for the purposes of breeding):
Anyway, here's a list of my favorite quotes. Some of them probably won't work for a high school yearbook, but I'm trotting them out just because...

"In the poker game of life, women are the rake. They are the (expletive) rake."
— Lester "Worm" Murphy"
I needed permission from my pregnant wife, who was perpetually ornery from (a) carrying our second child during the hot weather months in California, and (b) being knocked up because I pulled the goalie on her back in February.

[...]

The term "pulling the goalie" means "eschewing birth control and letting the chips fall where they may." Usually couples discuss pulling the goalie before it happens… unless it's Bridget Moynahan. In my case, I made the executive decision to speed up plans for kid number two. This did not go over well. I think I'm the first person who ever had a home pregnancy test whipped at them at 95 mph. In my defense, I'm getting old and wanted to have a second kid before I wouldn't be able to have a catch with them anymore. I have no regrets. Plus, we had a son. In the words of Joel Goodson, sometimes you gotta say, "What the fuck?"
(Do not use this talking point if you are Rick Santorum.)
13. Simmons once took a Muslim name:
That spawned my racial identity crisis in the first grade [...] when I gave myself the Muslim name "Jabaal Abdul-Simmons."
Image by Jim Cooke