Every morning, the fine folks at Sports Radio Interviews sift through the a.m. drive-time chatter to bring you the best interviews with coaches, players, and personalities across the sports landscape. Today: David Sills is a trusting youth.
Sills joined ESPN Radio Los Angeles to talk what grade he's in, what went through his head when he learned he'd been offered a scholarship by Lane Kiffin, how neither he nor his parents feel that any of this is too much too soon for him, if he knows if the scholarship offer will still stand were Kiffin not to be at USC when he matriculates in 2016, and how he's not worried about that because he's always wanted to go to USC his whole life.
What grade he's in at the moment:
"I'm an eighth grader right now."
What went through his head when he learned that he'd been offered a scholarship by Lane Kiffin:
"Well, when the scholarship came up, Coach Kiffin was actually talking to my quarterback coach, Coach Clarkson, and he was trying to get a hold of my dad and he couldn't get a hold of him. He finally got a hold of him and my dad told me and I thought my dad was joking when he told me. I didn't know what to think. You don't think of seventh graders at the time getting scholarships to USC. So I thought he was joking. When I realized it was real, I didn't even know what to do. I mean, that was my dream my whole life - to go to USC and play football. It's just been great since then."
With him taking trips to the USC campus recently, has there been any thought from him or his parents that this might be a bit too much too soon:
"There is definitely no thought from me that it is. I'm just trying to get ahead so that when I do go to USC, I'm prepared for USC and prepared for whatever comes at me. So it's just an early start for me, and I think it's a full advantage for me, and I think my parents and my whole family like it as well."
On what some of the highlights of his trip to the USC campus have been:
"Well yesterday I went to the quarterback meetings and I was with all the quarterbacks. And they treated me like I was one of the quarterbacks, I wasn't any different. It was cool being in there. They went through things like they were on the field; they were calling cadences like they were on the field. It was just cool when they were going over and protections being like 'wow, this is going to be me when I get older and can go to USC.' And then we went and watched their practice and it was really cool. It was just really cool watching all the players do their positions. So…"
G/O Media may get a commission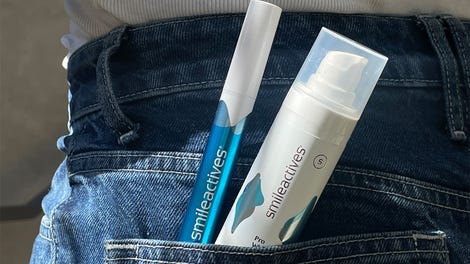 58% off
Whitening Powerhouse Pen & Gel Duo
If he knows if it's a possibility that he'd not have the same offer by a different head coach other than Kiffin:
"Well I'll always love USC. And I think Coach Kiffin is a great coach, so I think he'll be there when I get there in five years."
But can some coach other than Kiffin potentially rescind on the offer?
"I guess so. I'm not quite sure."
This post, written by Michael Bean, appears courtesy of Sports Radio Interviews. For the complete highlights of the interview, as well as audio, click here.
More from Sports Radio Interviews
• Marty Schottenheimer talks life in the UFL.
• Derrick Williams is a man.
• Kevin Garnett misses Perk.