Last Friday afternoon, I had the nerve to step away from my desk for as long as it takes to microwave a Hot Pocket and contemplate my sins, and Deadspin took advantage of those three unchaperoned minutes to damn near burn the place to the ground by running a piece with the title "Stouts Are The Best Beers." This was a very slick bit of propaganda that might've fooled some suckers, because stouts are beers and beers are the best, and if you read the headline real fast, you might not notice it disregards all the best-level beers that are not stouts, such as Schlitz and Allagash Curieux.
But although I disagree with this blanket assertion, I'm no stout-hater. I drink it all winter long, in fact, which is why it sort of bums me out that North American Stout Appreciation Day falls in March. It has finally started to warm up a bit; the top foot of snow has melted off the streets of Boston, leaving a mere 18 totally manageable inches of permafrost to remind us of the worst winter ever to befall mankind. I've been celebrating by drinking pilsners and witbiers and other springy things, a broad category that includes basically anything other than stouts and my own tear-slushies. But here comes St. Patrick's Day and its mandate that we drink stout. So, fine, we'll drink stout, and we'll like it.
But we're going to drink American stout, damn it, because Guinness is bullshit. Don't get me wrong: Guinness is good. But it's also owned by Diageo, a giant international conglomerate, and gigantic international conglomerates are bullshit. Eh, sometimes. I don't know. But I need to rank something—it's in me blood!—and we Americans don't have access to enough Irish stouts to bother (and we ran that hustle last year). So presented below are 16 American stouts listed in reverse order of my personal preference.
The methodology for this Drunkspin ranking was even sloppier than our gooey usual. There are billions of stouts out there, so I needed to establish some parameters. The first thing I did was eliminate anything that called itself a porter rather than a stout. What's the difference? Nothing much, so far as I can tell. Way back, a "stout porter" was a sturdier version of a porter, but that distinction fell by the wayside several waves of Irish immigration ago.
Next, I capped the alcohol-by-volume at 6 percent. I did this partially to avoid going drunk and broke on barrel-aged imperials, and also to tailor the list in a direction more useful for Paddy's Day binge-drinking. Guinness is only 4.2-percent ABV, and the rivers of black puke sluicing down the streets of South Boston—and, admit it, your own damn neighborhood, too—on the middle Saturday of every March are proof that you don't need high-proof stout to have an awful time.
G/O Media may get a commission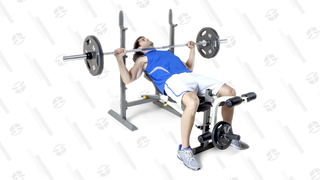 10% Off
Marcy Folding Weight Bench
Lastly and least scientifically, I decided to throw it open to all sorts of stouts that fit the above requirements: milk stouts, chocolate stouts, coffee stouts, dry Irish-style stouts, American-style stouts, and even a fuckin' oyster stout, because those exist. This was great for me (because I got to learn that I have definitive stylistic preferences), and it's moderately useful to you (because those preferences are so obviously betrayed in the ranking that you'll know how many grains of salt to throw at this list based on your own biases).
In addition to this above criteria, a beer was only eligible to appear on this list if it was easy for me to track down within a couple miles of my home. That's a huge flaw that compromises the integrity of the entire endeavor! It's also fair enough, man. I'm not ranking all the stouts in the universe; I'm ranking these dozen-and-a-third.
16. Butternuts Moo Thunder Milk Stout (Garrattsville, NY; 4.9-percent ABV )
This is the only objectively shitty beer in the lineup. Despite not loving stout quite as much as the last guy, I've always maintained that even a subpar brewery can make a passable version. I'm not saying it's an easy style to master, but based on trips to dozens of decent-at-best breweries and brewpubs, I've deduced that it's not the hardest one for a commercial operation to fake its way through.
Butternuts makes some fine beers—I like their Porkslap Pale Ale—but this ain't one of them. It has a dusty, earthy hay aroma that doesn't smell bad but probably isn't intended. The milky part tastes a bit sour, also in a way that might not taste awful in a different context, but it's hard to wrap your mind around accepting that trait in a beer with "milk" in the name. (Milk stouts have larger amounts of unfermented sugar left over after the brewing process, and sometimes lactose or another sugar is added; this makes them thick and sweet and, full disclosure, generally not my thing).
Butternuts doesn't date their cans, and I suppose it's possible I got ahold of an ancient or otherwise compromised batch, but my philosophy in that regard is that if it's on the shelf, it's fair game. If you're asking $9 for a six-pack of it, you also have to take whatever guff might come your way.
15. Brooklyn Dry Irish Stout (Brooklyn and Utica, NY; 4.7 percent)
Most of the famous dry Irish stouts, like Guinness, are nitrogen-enhanced; Brooklyn is not, to its credit (I think nitro's some cheater bullshit), and also to its demise. This beer is too thin. There's a nice caramel aroma up front, and then some coffee, but the good start is undone by a faintly chemical-tasting finish that is probably due to cruddy hops (or, hops that are just not to my liking!). It's a passable beer, but just.
Man, Brooklyn is all over the place (or, my appreciation for Brooklyn is all over the place!). I love some of their beers, like Local One and Sorachi Ace, and I unlove others, like this here one. (Note: Bottles of Dry Irish Stout are brewed and packaged in Utica, and the draft comes from Brooklyn. I had a bottle. It's reasonable to speculate that the draft is better.)
14. Wachusett Milk Stout (Westminster, Mass.; 5.2 percent)
This is a bit too sweet for my liking, as the sugar overpowers the roasted malt, but it's not flawed in any way. Wachusett Milk Stout would be a fine choice for the chocolate-milk enthusiast and a fair enough can of beer for any honest adult.
13. Shiner Birthday Beer Chocolate Stout (Shiner, Texas; 5 percent)
Smells strongly of Tootsie Rolls, tastes like cheap chocolate cake. Decent brewski for the right kind of weirdo.
12. Alpine Captain Stout (Alpine, Calif.; 6 percent)
Alpine calls this one a chocolate oatmeal stout. It's got a lot of good, bitter chocolate flavor and some pronounced pine; the oatmeal lends a rich, smooth texture (that's what oatmeal does), but the flavor turns a bit muted and pale-lagerish on the finish. This is a perfectly nice stout that doesn't quite deliver all it promises.
11. Blue Point Oatmeal Stout (Patchogue, NY; 5.2 percent)
This has a light, fruity aroma that suggests grapes and cherries. A cheapish milk-chocolate flavor shows up eventually to give the impression of skinned, liquefied M&M's. Blue Point Oatmeal Stout is good beer.
10. Rogue Chocolate Stout (Newport, Ore.; 6 percent)
This smells very much like chocolate, but there's also a nice grain aroma, as if a high-caliber fiber cereal were dusted with cocoa powder. This is my favorite chocolate stout; it's not a style I love, which is why I feel compelled to offset its middle-of-the-pack ranking here by noting that Rogue Chocolate Stout gets a 93 from Beer Advocate users and a 99 from the BA Brothers. While we're here, you know what chocolate stout is good for? This chipotle-chocolate chicken recipe.
9. Samuel Adams Cream Stout (Cincinnati, Ohio / Breinigsville, Pa.; 4.9 percent)
You ever put Grape-Nuts on vanilla yogurt? It's good. The Nuts are super calorie-dense though, so you gotta be careful; too heavy a hand and you might as well just eat a bagel with cream cheese and really enjoy yourself. Anyhow, that's what the mix of dairy sugar and roasted barley reminded me of here, which makes the Samuel Adams rendition my second-favorite cream stout. There's plenty of chocolate, too, and a bit of coffee, with a good dose of British hops to stiffen things up on the end—I find that lesser cream stouts tend to just fade into Chocodile Twinkie-style disappointment.
8. Foolproof Shuckolate Chocolate-Oyster Stout (Pawtucket, RI; 6 percent)
So it turns out oyster stouts are brewed with real oysters. Neat? The predominant aroma is of dark chocolate, augmented by a subtle brininess that probably comes at least 50 percent from reading the label. The subtlety's just in the sniffing, though: There's definitely some seawater in the taste, which combines with the chocolate to suggest an expensive candy bar. I like this angle of balancing a beer's malt with something other than hops—yeast in Belgium, herbs in gruits and other weird-beers, salt in goses, oysters in this Shuckolate number. I'm down.
7. Narragansett Autocrat Coffee Milk Stout (Pawcatuck, Conn.; 5.3 percent)
According to me in November: "The predominant aromas are of sweetened coffee and lightly roasted malt. At first sip, it tastes like melted coffee ice cream, which is pleasant, but would quickly grow tiresome if not for the bitter dark-chocolate and raisin notes that emerge in short order. A light pine edge joins on the finish to provide an extra dose of mild but definitive bitterness, as the hops trick your mouth into thinking you're drinking a beer brewed with properly bitter coffee (rather than childish syrupy bullshit)." Sounds legit!
6. Lefthand Milk Stout (Longmont, Colo.; 6 percent)
The lactose gives a sweet edge to the deeply roasted, bitter coffee. There's also a hint of chocolate-covered grapes, suggesting this would go make a very nice base for my favorite wintertime mixed drink, Hennessy and stout. The finish is a bit short and thin, but it does introduce a pleasant cream soda element. (Note: There's also a bottled nitro version of this, which is quite popular, but which I skipped, because I don't care for nitro'd beers in general.)
5. New Holland The Poet Oatmeal Stout (Holland, Mich.; 5.2 percent)
The roasted notes from the crystal and chocolate malts are kept in check by a resolute beeriness that I'm going to ignorantly guess comes from the pale ale and Munich malts. The Poet has a light caramel aroma and more dark fruit than most oatmeal stouts, with a late kick of pine from the Nugget and Glacier hops. This isn't a showy beer, but it is an excellent one.
4. Wolaver Oatmeal Stout (Middlebury, Vt.; 5.4 percent)
This one's very smooth and creamy, with a pronounced oat character underneath equal measures of sweet chocolate and bitter coffee. It's very dry for the style, with a long, slightly bitter finish.
3. Mayflower Winter Oatmeal Stout (Plymouth, Mass.; 6 percent)
This is a winter seasonal, but I found a fresh bottle a few days ago, which makes sense, since it's winter, but was also a pleasant surprise, since the shelves have been filthy with spring beers since Valentine's Day. It opens with a sweet grain smell, which is a nice touch given that most oatmeal stouts seem to lean on the oats more for texture than for flavor. (Mayflower uses three kinds of oats, which seems like a lot of kinds of oats, so maybe that's it.) The aroma also features medium-dark chocolate and lightly sweetened coffee; the flavor includes a touch of dark fruit and chocolate that deepens as the beer opens up, along with a hint of vanilla and a gentle booziness that suggest maybe 10 minutes of barrel-aging.
2. Firestone Walker Velvet Merlin (Paso Robles, Calif.; 5.5 percent)
This oatmeal stout smells like black coffee and light smoke in perfect, clean balance, like a handsome family's camping-trip breakfast. The smoke turns roasty on the palate, with the coffee joined by light citrus and more pine than expected. Velvet Merlin is dry for the style, well-hopped, and excellent.
1. Sierra Nevada Stout (Chico, Calif.; 5.8 percent)
The predominant flavor is of roasted malt, because it's a stout, but there's also a real pine kick and a little touch of citrus, too, because it's a Sierra Nevada Stout. This has a very assertive hop profile for a stout that debuted in 1980, but I'm confident that stoutists of all stripes will love this beer, which was the most complex of the 16 I tasted—there's even some mint flavor on the tail end!
So there it is. What'd I miss? I'm all ears, with the caveat that if you start your comment with "This list is invalid because ..." or "What, no love for ..." you're going to be banned for life. Happy holiday, drunks.
---
Will Gordon loves life and tolerates dissent. He lives in Cambridge, Mass., and some of his closest friends have met Certified Cicerones. Find him on Twitter @WillGordonAgain.
Image by Sam Woolley.
The Concourse is Deadspin's home for culture/food/whatever coverage. Follow us on Twitter.