Last week we published a list of 18 Overrated Beers, featuring the irresponsible and unsubstantiated claim that there exist—right here on this very earth!—people unwilling to trade the middle seven years of their lives for a case of Yuengling. We did this because last week, at least, we were trolls and haters, who probably don't even drink beer, man. We are lovers this week. Therefore we are pleased to present the Official Drunkspin List of Underrated Beers.
First, a few guidelines. Last time we got all fucked into knots trying to figure out what "overrated" means. That was a big mistake. So let's do the opposite. For our purposes here today, an "underrated" beer is one that is better than it is commonly perceived to be. Easy! Except wait, who is doing this common perceiving? Ah shit, that's what got us into trouble last time, huh?
To qualify for the Official Drunkspin List of Underrated Beers, a beer needs to be better than it is commonly perceived to be, as determined by our panel of experts. So spare me the "How can this be underrated if Beer Advocate says …" complaints. Beer Advocate is a perfectly fine organization. It is not, however, part of our panel of experts, which consists of me, the liquor store guy, and whomever I bumped into on Twitter while compiling this list.
The beers below can be roughly separated into three categories: "Sucks less than you think," "Still really good even though the beer geeks are totally over it," and "Good representation of an out-of-vogue style." Here we go.
Brooklyn Brown: Let's drink more brown ale starting now, and staring with this one.
G/O Media may get a commission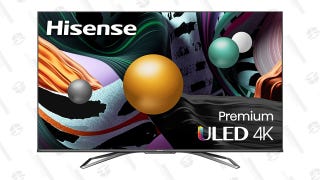 Save $350
Hisense ULED 65" Android 4K HDR Smart TV
Coors Banquet: Plain yellow-can Coors is by far the best of its breed. Most serious beer folk dismiss all Bud/Miller/Coors as the same shit in different cans, but this particular shit is superior.
Guinness Extra Stout: I'm not talking about regular draft Guinness, although I could be—it's much better than a lot of new-wave craft aficionados care to admit. Instead, I'm referring to the black bottles with yellow labels—no, not the Foreign Extra, which is also pretty good, but regular Extra is a bit better for its two distinct waves of bitterness from both roasted malt and hops. (Hey Guinness, straighten your marketing out a little bit, huh? This is confusing.)
Samuel Adams Boston Lager: I'm only saying this because I'm from Boston and NOMAH! YOU'RE JUST JEALOUS! WE GOT LIKE HALF A DOZEN SPARE WAHLBERGS WE AIN'T EVEN SPRUNG ON YOU YET! And also because it's the best widely available Vienna lager in America.
Schlitz: I've been guilty of disrespecting Schlitz in the past—after a decade-long bender, I turned my back on it for a few years—but now I'm back, and it's as good as ever. They've retired the classic "Just a Kiss of the Hops" slogan as a concession to our hop-centric age, but there is indeed still just the lightest hint of bitterness in this surpassingly clean, gentle, and welcoming beer.
Just a cold mug of suds on a hot day, you know what I mean? Relax. It's just beer.
Sierra Nevada Pale Ale: This might not earn you any adventuring badges on your precious beer-cataloging app, but it's still one of the finest pale ales in all the land.
Founders Breakfast Stout: This is an excellent and reasonably accessible beer that everyone really likes. It's only underrated in the narrow (and specious!) context of its standing relative to the bastardized celebrity version of itself, Founders Kentucky Breakfast Stout. Two bottles of regular FBS is a better and more easily negotiated deal than one bottle of FKBS.
Molson Canadian Light: This is the best widely available light beer in North America. Weird, I know.
Victory Prima Pils: Pilsner is probably the most underrated style among serious American beer lovers. I'm using Prima on this particular poster for my pilsner campaign because it's really good, and also because a lot of people nominated various Victory beers for this list, and I wanted to get that on the record.
Fuller's ESB: This British import has a near-perfect balance of hops to malt. It tastes like iron-plated cherries and pepper-crusted caramel; you can feel yourself getting more vigorous with every sip.
Old Milwaukee Light: It's better than regular Old Milwaukee, even though a lot of people probably think it's the same or worse, in which case those silly hypothetical people would have underrated it.
Reissdorf Kölsch: Another instance where I'm recommending the style of beer as much as the particular brand. There aren't a ton of American brewers producing year-round renditions of this cold-conditioned ale, which is a shame. So try this outstanding example from Cologne, kölsch's homeland.
Dos Equis Ambar: Don't be put off by the dubious provenance (Mexican beer tends to be crummy) or cheesy advertising campaign. This amber lager is better than the more popular green-bottle Dos Equis.
Kona Big Wave: The branding prompts fears that this could be more marketing gimmick than serious brew, and blonde ales don't win a lot of awards, but this smooth, easy-drinking beer is ideal for guzzling by the half-dozen after a long morning of not surfing.
Dogfish Head 90 Minute: This is the Sierra Nevada Pale Ale of double IPAs.
Samuel Smith Oatmeal Stout: There are tons of great stouts around these days, but few of them offer better value than this British classic, which is widely available for about $4 a bottle.
Finch's Fascist Pig Ale: This is very malty for an eight-percent-ABV American ale, which is a big reason it tends to get overlooked by the beer-rating classes. The caramel malts dominate, but there's some rye-derived pepper in there, too, and the mix of dry-hopped Zythos and palisade adds a gentle backside bite.
Wasn't that soothing and cathartic! It's nice to be nice. Now let's have a friendly discussion about other beers you consider underrated.
---
Will Gordon loves life and tolerates dissent. He lives in Cambridge, Mass., and has visited all of the other New England states, including, come to think of it, Vermont. Find him on Twitter@WillGordonAgain.
Image by Sam Woolley.
The Concourse is Deadspin's home for culture/food/whatever coverage. Follow us on Twitter:@DSconcourse.